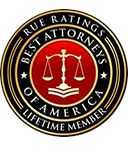 "Brian Joslyn is an Award-Winning Criminal and DUI Defense attorney who, along with his team at The Joslyn Law Firm, have handled hundreds of criminal cases and helping their clients obtain the best results possible."
Property Crimes in Cincinnati, Hamilton County, OH
The most common property crimes in Ohio include theft, trespass, criminal mischief, vandalism, burglary, and robbery. These misdemeanor and felony offenses can come with serious criminal penalties. If you were arrested on charges concerning a property-related criminal offense in Cincinnati, Ohio, consider the benefits of hiring a criminal defense attorney at Joslyn Law Firm.
Brian Joslyn is a nationally recognized criminal defense attorney. Various news media—including NBC 4, ABC 6, Fox 28, 10 WBNS, The Columbus Dispatch, and The Plain Dealer—seek out his expertise when covering criminal law stories.
The legal industry has long recognized Mr. Joslyn's abilities and acknowledged these abilities with multiple awards over the years. The National Academy of Criminal Defense Attorneys named Mr. Joslyn a Top 10 Criminal Lawyer in Ohio, and Super Lawyers honored him as a selectee of the prestigious Rising Star award.
Lawyer for Property Crimes in Cincinnati, Hamilton County, OH
A person can find themselves facing charges for a property crime for a wide range of reasons. Penalties for such charges also run a broad range. Sometimes, the simple matter of intent changes the entire landscape for a property crime charge.
This is why anyone charged with arson, robbery, burglary, breaking and entering, vandalism, criminal mischief, or criminal trespass should strongly consider hiring an attorney who has handled property crimes cases in Cincinnati and knows all the defense strategies available when defending this type of offense.
Attorney Brian Joslyn and the legal team at Joslyn Law Firm have ample experience defending people charged with property crimes throughout Hamilton County. They share an intrinsic knowledge of Ohio's property laws and will use this knowledge to prepare the strongest defense possible for your case.
Joslyn Law Firm has a strong track record representing criminal defendants throughout Hamilton County and surrounding areas. The firm has handled more than 15,000 criminal cases, and our lawyers are ready to put this experience to work for you.
Call us for a free consultation to discuss the facts of your case and defenses that might apply. Call (513) 399-6289 today.
---
Cincinnati Property Crimes Information Center
---
Types of Property Crimes in Cincinnati
Property offenses contained in the Ohio Revised Code include:
---
Penalties for Property Crimes in Cincinnati
The penalties for a property crime conviction in Ohio depend on the level at which the offense was charged. The information above provides the circumstances of each property crime offense that determine how it will be charged. Use the following chart to see the penalties that correspond with the charge you might face in your case.
As per the Ohio Supreme Court, penalties for various level charges are as follows:
| | | |
| --- | --- | --- |
| Level of Charge | Jail Time (Maximum) | Fine (Maximum) |
| Misdemeanor of the 1st Degree | 180 days | $1,000 |
| Misdemeanor of the 2nd Degree | 90 days | $750 |
| Misdemeanor of the 3rd Degree | 60 days | $500 |
| Misdemeanor of the 4th Degree | 30 days | $250 |
| Felony of the 1st Degree | 3-10 years | $20,000 |
| Felony of the 2nd Degree | 2-8 years | $15,000 |
| Felony of the 3rd Degree | 1-5 years | $10,000 |
| Felony of the 4nd Degree | 6-18 months | $5,000 |
| Felony of the 5th Degree | 6-12 months | $2,500 |
---
Defenses Against Property Crimes in Ohio
Always remember that a charge does not have to mean a conviction. You are innocent until proven guilty—and these words mean a lot more than you might realize. They mean that you do not need to prove your innocence. Rather, the prosecution must prove your guilt. It carries the burden of proof.
This burden often serves as the basis for a criminal defense attorney's defense strategy, with the defendant's lawyers focusing their efforts on suppressing the prosecution's evidence—or at least raising reasonable doubt about its veracity. Depending on your case's circumstances, your attorney might raise other defenses when representing you.
Here, we review some of the most common defenses in a property crime case:
Duress
If someone threatened you or a third party with immediate acts of violence if you did not commit the property crime offense with which you are charged—and your lawyer can show that a reasonable person would have behaved the same way you did in a similar situation—this defense could prove effective in your case.
Justification
Sometimes, your actions might check off all the boxes of a property crime, but the reasons for your actions paint a different picture. Perhaps an emergency situation prompted you to "break and enter" into someone's home to protect them or prevent them from suffering injury. If extenuating circumstances shed a non-criminal light on your alleged property crime offense, your lawyer could raise this defense on your behalf.
Renunciation
If you withdrew your participation in a property crime before the criminal act started—and you put substantial effort into trying to halt the crime from happening—your attorney can present this circumstance to the court as your defense.
---
Property Crime by Population in Hamilton County in 2017
The Federal Bureau of Investigation's Uniform Crime Reporting (UCR) offers crime statistics by state. The table below records property crime data from Hamilton County. This data reflects the offenses known to law enforcement officials for 2017.
| | | |
| --- | --- | --- |
| City | Population (2017) | Property Crime Incidents |
| Cincinnati | 299,116 | 15,105 |
| Springfield | 58,843 | 4,024 |
| Springfield Township, Hamilton County | 36,571 | 674 |
| Delhi Township | 29,619 | 416 |
| Norwood | 19,994 | 895 |
| Forest Park | 18,665 | 435 |
| Loveland | 12,846 | 111 |
| Blue Ash | 12,248 | 278 |
| Harrison | 11,246 | 182 |
| Montgomery | 10,638 | 152 |
| North College Hill | 9,311 | 310 |
| Cheviot | 8,269 | 231 |
| Milford | 6,939 | 192 |
| Indian Hill | 5,830 | 43 |
| Deer Park | 5,665 | 51 |
| Amberley Village | 3,607 | 29 |
| Greenhills | 3,584 | 43 |
| Mariemont3 | 3,435 | 41 |
| Lockland | 3,427 | 131 |
| Woodlawn | 3,292 | 129 |
| Evendale | 2,767 | 233 |
| Newtown | 2,679 | 21 |
| Fairfax | 1,702 | 253 |
| Addyston | 936 | 21 |
---
Additional Resources for Property Crime in Ohio
Visit the website of the Federal Bureau of Investigation (FBI) to learn more about property crime in the United States.
Its Uniform Crime Reporting (UCR) Program defines "property crime" to include the following offenses:
Theft-type offenses are defined as the taking of money or property, but there is no force or threat of force against the victim. Some property crimes also involve violence, such as robbery. Every year, the FBI compiles statistics related to property crimes into the reports you can find on these pages. Its most recent report consists of data representing property crimes that took place in 2018.
This landmark case, argued in 1967 and decided in 1968 by the U.S. Supreme Court, addressed fundamental issues regarding Fourth Amendment rights.
In short, the matter arose from plainclothes Cleveland Police Detective Martin McFadden's arrest of two men who he believed to be acting suspiciously. McFadden performed a pat-down search of three men who he thought were preparing to commit a store robbery.
John Terry and Richard Chilton were found to have concealed weapons on their persons. They were arrested, tried, and convicted. The men appealed the conviction on the basis of an illegal search, but the Ohio Supreme Court upheld the conviction.
Terry brought his case before the U.S. Supreme Court, which concentrated its decision on whether McFadden's search was reasonable. Because the officer suspected that Terry might be armed and that this would present a danger to McFadden and others, the Court decided that the search was reasonable.
This section of the Ohio Revised Code outlines the rights of a crime victim as they pertain to the return of property following an investigation. The statute asserts that law enforcement shall promptly return property taken for the purpose of investigation.
Investigators may photograph such property as evidence. If the rightful ownership of property is up for debate, law enforcement shall return the property when it has resolved the question of ownership.
The Office of Justice Programs' Bureau of Justice Statistics (BJS) provides a page that focuses exclusively on property crime. The data presented comes from the National Crime Victimization Survey (NCVS), which measures burglary, property theft, motor vehicle theft, trespassing, and property theft. The NCVS began in 1973.
The reports from this data speak to property crimes affecting individual victims and households, not commercial entities. It includes information from crimes that victims did not report to the police.
This section of the Ohio Revised Code outlines the state's laws pertaining to the property crimes of burglary, robbery, trespass, and safecracking.
Review this statute to determine how Ohio distinguishes robbery from aggravated robbery, burglary versus aggravated burglary, and criminal trespass versus aggravated trespass, as well as specific definitions for breaking and entering.
The law also tells you how each offense will be charged by the state, depending on various factors.
---
News About Property Crime in Cincinnati
March 5, 2021
"Thieves Cash in on Stolen Catalytic Converters"
According to Fox 19 Now, the materials used to make catalytic converters—rhodium, platinum, and other high-dollar commodities—have prompted a surge of thefts of these devices. Thomas Wilson of Blue Grass Recycling in Burlington, Kentucky, told the news station that the devices can be removed in under two minutes and that they offer a great return on thieves' efforts.
Wilson told the news station that he checks driver's licenses and records plate numbers of people who come to his business selling catalytic converters. He also said that Blue Grass Recycling is cooperating with police to devise a plan that will help cut down on the thefts of area converters.
Cincinnati Police are maintaining a database of sellers by working with scrapyards. Police have also created a "Dealer No Buy List," which features names of potential sellers who have a criminal record of theft.
February 22, 2021
"Sheriff: Juvenile Arrested, 2 Suspects at Large After Aggravated Robbery in Kenwood"
WLWT News 5 staff reported that police arrested a juvenile in connection with aggravated robbery in Kenwood. When a juvenile prepared to enter his vehicle, three individuals approached him with a gun, ordering the victim to give them his vehicle, then entering the vehicle and fleeing the scene. Police discovered the stolen vehicle an hour later.
The suspects attempted to run away, but officers caught one of them and arrested him. He was charged with aggravated robbery and theft of a motor vehicle. The case is still being investigated, and the alleged offender was taken to Hamilton County Youth Detention Center.
February 16, 2021
"Bill Would Enhance Ohio Vandalism Penalties in Response to 2020 Damages"
Highland County Press reports that Ohio State Senator Andrew Brenner wants to heighten penalties for certain crimes, including vandalism, criminal mischief, arson, disrupting public services, and arson. The levels of damage done to the Ohio Statehouse and downtown businesses over the course of 2020 prompted the senator to sponsor Senate Bill 34.
The legislation would enhance criminal penalties for these property crimes and other offenses in hopes of deterring future would-be perpetrators. SB 34 further proposes buying 60 high-definition cameras with advanced imaging software, as well as installing plexiglass in the Statehouse building.
September 10, 2021
"Man Arrested on Arson Charges After Fatal Westwood Blaze"
Fire investigators arrested Jamal Rashid for his role in an apartment building fire that happened in Westwood in November 2019. The man has been charged on two counts of aggravated arson, according to Fox 19 Now.
Three individuals managed to jump from the second floor of the building to safety, and firefighters rescued one individual from a first-floor apartment. However, this victim died less than one week after the two-alarm fire. Two other people and a firefighter were also injured in the blaze.
September 9, 2020
"Cincinnati Police: Suspect in More Than 15 Break-Ins at United Dairy Farmers Stores Arrested"
A Cincinnati Enquirer report says two Cincinnati police officers spotted a car last fall that they believed to be connected to a series of breaking and entering cases.
During their traffic stop, they noted criminal tools in the car, as well as drug paraphernalia. Police arrested Jerome Parker, the individual driving the vehicle, in connection with break-ins of more than 15 United Dairy Farmers locations around Hamilton County.
He was charged with 10 counts of breaking and entering, theft, possession of criminal tools, and possession of drug paraphernalia.
More than $9,500 in stolen products were stolen during the 10 break-ins of which Parker is being accused. The offenses also resulted in nearly $13,000 worth of property damage.
Police departments from Cincinnati, Green Township, North College Hill, and Delhi Township are continuing their joint investigation of the matter, and they are soliciting tips from anyone who might have information about the crimes.
---
FAQs About Property Crime in Ohio
Q: What Is the Punishment for Breaking and Entering in Ohio?
A: If you are convicted of breaking and entering in Ohio, you have been found guilty of a felony of the fifth degree. This charge carries a possible sentence of between six and 12 months in prison and a maximum fine of $2,500.
Q: Is Burglary a Violent Crime in Ohio?
A: Ohio statutes explain the degrees of burglary and how they are charged. While a fourth-degree felony burglary does not constitute a violent crime by Ohio laws, the offense can become a violent one, in legal terms, given certain conditions.
For example, if the offender carries a deadly weapon and either inflicts physical harm or threatens this action, they can be found guilty of aggravated burglary and charged with a first-degree felony. This charge carries much more serious penalties than simple burglary.
Q: Can Criminal Mischief Charges Be Dropped in Cincinnati?
A: A criminal defense lawyer can raise a defense that could result in your criminal mischief charges being dropped. This would, however, require your attorney's ability to persuade a court that you could not have known that your actions would cause property damage.
There would be defenses to a criminal mischief charge, too, including self-defense, if the property damage occurred as a function of your defending yourself or another party.
Q: What Is the Punishment for Arson in Ohio?
A: A person convicted of arson in Ohio generally faces first-degree misdemeanor charges. This charge corresponds with a maximum jail term of 180 days and a maximum fine of $1,000.
Q: What Is the Difference Between Arson and Aggravated Arson in Hamilton County?
A: If an act of arson puts another individual—including firefighters who arrive at the scene of the fire—at substantial risk, the offense is elevated to aggravated arson. This offense constitutes a felony of the first degree, and the convicted offender will be punished accordingly.
---
Cincinnati, Hamilton County Property Crimes Lawyer
If you are arrested on charges of a property crime in Cincinnati, Ohio, then contact a criminal defense attorney at Joslyn Law Firm. Examples of property crimes commonly prosecuted in Hamilton County, Ohio, include robbery, burglary, vandalism, criminal mischief, trespass, and theft.
Our criminal defense attorneys represent clients throughout Cincinnati and the surrounding areas of Hamilton County. Call (513) 399-6289 for a free consultation.
---