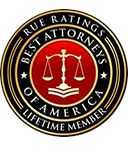 "The Joslyn Law Firm is highly experienced and nationally recognized for their Criminal and DUI Defense. Brian Joslyn is an Award-Winning Criminal and OVI Defense attorney who, along with his team, has handled hundreds of cases and has helped their clients obtain the best results possible."
First OVI Penalties in Ohio
Most OVI arrests in Ohio involve a person with no prior criminal record. If you were arrested for a first offense DUI in Ohio, contact an experienced OVI/DUI defense attorney near you in Cincinnati, Ohio, at Joslyn Law Firm. We represent clients throughout Cincinnati and the surrounding areas of Hamilton County, Ohio with their first time OVI charge.
This article discusses the minimum and maximum first time OVI charge penalties that will occur if you are convicted of a OVI in Ohio. Keep in mind that if your OVI charges are dropped or if the charges are reduced to a lesser offense then the statutory penalties and punishments will not apply.
Learn More About:
Call (513) 399-6289 to speak directly to an OVI defense attorney near you at Joslyn Law Firm about the facts of your OVI case.
---
What Are The Penalties for a First Time OVI in Ohio?
If you are convicted of OVI in Ohio for a first-time offense, the court must impose a fine that ranges from $375 to $1,075. You must also pay a driver's license reinstatement fee of $475.
If you submitted to a chemical test and the result was as BAC of .08 to .17 then the judge may sentence you to three days in jail or three days in a Driver Intervention Program. The Driver Intervention Program is a 72-hour drug and/or alcohol treatment program that has been approved by the court. If you are required to successfully complete a Driver Intervention Program then you must pay the expenses required by the program.
If your BAC was above a .17 or if you refused a breath test when you had a prior OVI conviction within the last 20 years, then the judge can sentence you to six days in jail or three days in jail and three days in the Driver Intervention Program.
In addition to any administrative suspension, the judge will impose a Class Five license suspension for a first OVI conviction. The Class Five suspension can last from six months to three years. You can apply for occupational driving privileges after a specified amount of time has passed after your arrest. For students, the occupational driving privileges allow you to travel to and from school.
For anyone convicted of an OVI with a BAC over .17, the court may require you to install the ignition interlock device or yellow license plates on your car before your driving privileges can be obtained. The ignition interlock device is an instrument installed in your vehicle that takes your breath reading before it allows the vehicle to start to ensure that you have not consumed any alcoholic beverages.
---
ALS Suspension for a First OVI in Ohio
On a first offense of OVI, if a person refuses to submit to a chemical test, the length of the ALS is twelve month. If a test over the legal limit is obtained, the term of the ALS is 90 days. In addition to the administrative suspension, the court will also impose a court-ordered suspension that on a first time OVI charge that can run from six months to three years.
The administrative suspension is imposed by the BMV and the court-ordered suspension after a conviction is imposed by the judge.
---
Summary of First Time OVI Charge Penalties in Ohio
---
Limited Driving Privileges for a First OVI in Ohio
After a first OVI arrest, the driver may file a petition for limited driving privileges in the municipal, county, mayor's court that has jurisdiction over the place of arrest. For a minor child arrested for OVI, the petition for limited driving privileges would be filed in juvenile court (Ohio Revised Code Section 4510.021).
---
Reinstatement of Driving Privileges after a First OVI Conviction
The reinstatement requirements after a first OVI conviction in Ohio are set out in Ohio Revised Code Section 4510.038. The requirements including serving the court imposed suspension, paying a reinstatement fee, and showing proof of insurance to the Ohio BMV at the following address:
Ohio Bureau of Motor Vehicles Attn. Reinstatement (RE) Fee P.O. Box 16520 Columbus OH 43216-6520
---
Additional Resources on First Offense DUI in Ohio
Ohio Law on the First OVI – Visit the website for Ohio's Bureau of Motor Vehicles (BMV) to learn more about First Offense OVI (first offense DUI- Driving Under the Influence) under Ohio Revised Code Section 4511.19. Learn more about operating a vehicle with a a prohibited alcohol concentration or drug abuse and with no prior OVI's within the last six years on the driving record. Find information on the length of suspension and limited driving privileges. 

---
Finding an OVI Defense Attorney Near You in Cincinnati, Ohio
Call the OVI defense attorneys near you in Cincinnati, Ohio, at Joslyn Law Firm to discuss the possible penalties and punishments for a first-time OVI conviction. The first OVI case in Hamilton County, Ohio, can involve either a refusal, or a chemical test of your breath, blood or urine.
If the charges are dropped or reduced then the statutory penalties mentioned here will not apply. Call (513) 399-6289 to discuss your case today in Georgetown in Brown County, Cincinnati in Hamilton County, Lebanon in Warren County, Oxford in Butler County, Batavia in Clermont County, Wilmington in Clinton County, and Preble County Indiana. We can also advise on if this is your second OVI offense, third OVI offense, and other matters related to your DUI case. 
See What Our Clients Are Saying About Our First Time OVI Charge Defense Attorneys Near You
I was pulled over and arrested for drinking and driving and charged with an OVI. I was scared to death and didn't know what to do. A family friend referred me to the Joslyn Law Firm and after talking to the owner, Brian Joslyn I decided to hire his firm. His associate Mark Wieczorick handled my case and I couldn't be happier with the results. Mark was very prompt in returning my phone calls and keeping me up to date with my case. He was extremely professional and knowledgeable about the law. At the end of my case I got no jail time, and the OVI was reduced down to a physical control. Very happy with my representation and will recommend this firm to friends and family!

Marie G on Google

⭐️⭐️⭐️⭐️⭐️
This article was last updated on Monday, February 20, 2023.