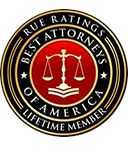 "The Joslyn Law Firm is highly experienced and nationally recognized for their Criminal and DUI Defense. Brian Joslyn is an Award-Winning Criminal and DUI Defense attorney who, along with his team, has handled hundreds of cases and has helped their clients obtain the best results possible."
OVI Refusal in Cincinnati, Ohio
After an arrest for OVI (often called "DUI"), if the officer suspects alcohol intoxication then the officer can request a breath test. Before a refusal can occur, the arresting officer is required to advise the person of the consequences of refusal. R.C. 4511.192(B). The officer must comply with the requirements of Ohio's implied consent statute.
The refusal can trigger an Administrative License Suspension (ALS). The length of a ALS for refusing to submit to chemical testing is determined by the statutory factors set out in R.C. 4511.191(8). An ALS can also be imposed for a subject who drove with a prohibited concentration of a controlled substance under R.C. 4511.19(A)(1)(b) — (e).
If you were arrested for OVI (formerly called DUI) and you refused to submit to a chemical test of your breath, blood or urine, then you should contact a criminal defense attorney at Joslyn Law Firm. Our OVI defense attorneys in Cincinnati are experienced in fighting cases involving the alleged "refusal" to take the chemical test.
Call for a free consultation to discuss your case.
---
Inability to Submit to Chemical Testing is Not a Refusal
"A refusal to submit to a chemical test of the blood, breath or urine will occur where a person, by his acts, words or general conduct, manifests an unwillingness to submit to the test." Hoban v. Rice, 25 Ohio St.2d 111, 267 N.E.2d 311 (1971).
It should not be considered a "refusal," however, if the person is unable to do the act requested because refusal is a volitionary act that requires an intent not to perform an action. Hoffer-Hodge v. Caltridge, 17162, 1998 WL 906479, at *2 (Ohio Ct. App. 1998).
"Unless there is a refusal to comply with instructions for blowing into a Breathalyzer, failure to produce an adequate sample of breath for testing is not a refusal to submit to a chemical test upon the request of the arresting officer * * *." Riebel v. Curry, 38 Ohio Misc. 71, 74, 313 N.E.2d 26 (1974).
"A person's refusal to submit to a chemical test occurs whenever a preponderance of the evidence demonstrates that such person's conduct provides justification for a reasonable requesting officer to believe that the person was capable of refusing the test and displayed an unwillingness to submit to the test." State v. Glasscock, 111 Ohio App.3d 371, 376, 676 N.E.2d 179 (1996).
---
OVI Penalties for Refusing Chemical Testing
If you charged with an OVI refusal, then you can be charged with a first degree misdemeanor. The statutory penalties can include:
serving at least three days in jail and up to a maximum of 6 months;
paying a minimum fine of $375 and up to a maximum of $1,075;
completing a three day driving intervention program;
serving a driver's license suspension for at least 6 months and up to a maximum of 3 years; and
installing an ignition interlock device in your vehicle.
---
Finding an OVI Refusal Attorney in Cincinnati, Ohio
Find an attorney after an OVI arrest in Cincinnati, Ohio, at Joslyn Law Firm. Call us to discuss defenses to a first OVI refusal cases in Cincinnati, Ohio.
Whether you were arrested by the Hamilton County Sheriff's Office, the Cincinnati Police Department, or another local law enforcement agency in Hamilton County, Ohio, call us to discuss your case. We are familiar with the tactics used by the Hamilton County OVI Task Force, especially when it comes to local sobriety checkpoints and roadblocks.
We also represent clients on more serious charges for a second OVI, a third OVI, or subsequent OVI refusal. Learn more about important defenses that exist in these cases including problems with the compliance with Ohio's Implied Consent Statute.
---
This article was last updated on Monday, November 16, 2015.