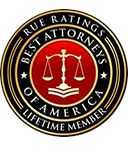 "The Joslyn Law Firm is highly experienced and nationally recognized for their Criminal and DUI Defense. Brian Joslyn is an Award-Winning Criminal and DUI Defense attorney who, along with his team, has handled hundreds of cases and has helped their clients obtain the best results possible."
Ohio's Implied Consent Statute
After an arrest for OVI (formerly known as "DUI") in Ohio, the arresting officer will ask you to submit to a breath, blood or urine test. Under Ohio law, if you drove in the state then you are already deemed to have consented to the chemical test. If you refuse the test, then certain consequences are triggered, including an Administrative License Suspension (ALS).
In order for it to count as a "refusal" the officer must strictly comply with Ohio's implied consent statute. Ohio's implied consent statute is set out at Ohio Revised Code ORC Section 4511.191. The statute provides that the driver has implicitly consented to taking a breath test, blood test or urine test for the purpose of determining the alcoholic content.
At the time you are pulled over for OVI, the arresting officer is required to read you Ohio's implied consent warning contained in ORC 4511.192. If you refuse the test, it also triggers certain consequences in the criminal case. When the case goes to trial, the prosecutor can argue that the refusal showed that you were "conscience" of your guilt. This means that the prosecutor gets to argue that you refused because you knew that the test would show an unlawful concentration of alcohol or drugs in your system.
If you allegedly refused to consent to testing of your breath, blood or urine after an OVI arrest in Cincinnati, Ohio, then contact an experienced criminal defense attorney at Joslyn Law Firm. Call to discuss your OVI refusal case in Cincinnati today.
---
Refusal after a Prior OVI in Ohio
Ohio Revised Code ORC Section 4511.19(A)(2)) provides that anyone who refuses to participate in testing after being informed of the resulting penalties for refusing to participate in a chemical test could potentially face being arrested, separate from any OVI charge if they have a prior conviction within the last 20 years.
Section 4511(A)(2) provides:
(2) No person who, within twenty years of the conduct described in division (A)(2)(a) of this section, previously has been convicted of or pleaded guilty to a violation of this division, a violation of division (A)(1) or (B) of this section, or any other equivalent offense shall do both of the following:
(a) Operate any vehicle, streetcar, or trackless trolley within this state while under the influence of alcohol, a drug of abuse, or a combination of them;
(b) Subsequent to being arrested for operating the vehicle…being asked by a law enforcement officer to submit to a chemical test or tests under section 4511.191 of the Revised Code, and being advised by the officer in accordance with section 4511.192 of the Revised Code of the consequences of the person's refusal or submission to the test or tests, refuse to submit to the test or tests.
---
Finding an OVI Attorney after a Refusal to Submit to Testing
If you were arrested for OVI in Cincinnati, OH, and after the reading of Ohio's implied consent statute, the arresting officer alleged that you refused a chemical test, then contact an experienced OVI defense attorney at Joslyn Law Firm. We represent clients throughout Hamilton County, OH.
Call (513) 399-6289 for a free consultation.
---
This article was last updated on Monday, November 16, 2015.