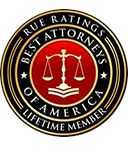 "Brian Joslyn is an Award-Winning Criminal and DUI Defense attorney who, along with his team at The Joslyn Law Firm, have handled hundreds of criminal cases and helping their clients obtain the best results possible."
Aggravated Assault Lawyer in Cincinnati
Much like felonious assault, aggravated assault involves an alleged offender knowingly causing serious physical harm to another person or to another person's unborn, or causing or attempting to cause physical harm to another or to another's unborn by means of a deadly weapon or dangerous ordnance. Convictions for aggravated assault carry serious immediate and long-term penalties.
With years of successful criminal cases under our belts, know that you will be taken care of by the team at Joslyn Law Firm. We are dedicated to providing our clients with the same level of passionate representation we would for our families. When you come to us with your aggravated assault case, we know exactly how to handle it.
Joslyn Law Firm has handled over 20,000 cases, and Brian Joslyn has been locally and nationally awarded and recognized by some of the most respected legal organizations such as the National Association of Criminal Defense Lawyers and Rue Ratings' Best Attorneys of America. Brian and his team bring passion and determination to every case they represent, and the team will fight for you no matter how daunting the case may seem.
Attorney for Aggravated Assault Arrests in Cincinnati, OH
Were you recently arrested in the greater Hamilton County area for an alleged aggravated assault offense? Contact Joslyn Law Firm today for legal help. You do not want to say anything to authorities without legal counsel.
Brian Joslyn is a criminal defense lawyer in Cincinnati with experience representing clients accused of violent crimes in communities all over southwest Ohio, including Springdale, Sycamore, Anderson, Bridgetown, Delhi, Green, Harrison, Miamitown, Norwood, and many others. Our lawyers have all been working in criminal law for years, some have even brought criminal prosecution experience when they joined the firm.
Aggravated assault means that you are charged with physically harming someone in a moment of extreme passion, and this charge can affect the rest of your life. You may be barred from working in specific fields, and your life can be negatively impacted by this charge in several other ways.
Call (513) 399-6289 to have a team member provide an honest and thorough evaluation of your case during a free initial consultation. We will do everything we can to get the best possible outcome for you. You should not have to handle your defense alone—someone at Joslyn Law Firm is standing by to take your call.
Information Center for Aggravated Assault in Cincinnati:
---
Aggravated Assault Charges in Hamilton County
Ohio Revised Code § 2903.12 states that a person commits aggravated assault if he or she, while under the influence of sudden passion or in a sudden fit of rage, either of which is brought on by serious provocation occasioned by the alleged victim that is reasonably sufficient to incite the person into using deadly force, knowingly:
Causes serious physical harm to another person or to another person's unborn;
Causes or attempts to cause physical harm to another person or to another person's unborn by means of a deadly weapon or dangerous ordnance.
Under Ohio Revised Code § 2923.11(A), a deadly weapon is defined as "any instrument, device, or thing capable of inflicting death, and designed or specially adapted for use as a weapon, or possessed, carried, or used as a weapon." Ohio Revised Code § 2923.11(K) defines a dangerous ordnance as any of the following:
Any automatic or sawed-off firearm, zip-gun, or ballistic knife;
Any explosive device or incendiary device;
Nitroglycerin, nitrocellulose, nitrostarch, PETN, cyclonite, TNT, picric acid, and other high explosives; amatol, tritonal, tetrytol, pentolite, pecretol, cyclotol, and other high explosive compositions; plastic explosives; dynamite, blasting gelatin, gelatin dynamite, sensitized ammonium nitrate, liquid-oxygen blasting explosives, blasting powder, and other blasting agents; and any other explosive substance having sufficient brisance or power to be particularly suitable for use as a military explosive, or for use in mining, quarrying, excavating, or demolitions;
Any firearm, rocket launcher, mortar, artillery piece, grenade, mine, bomb, torpedo, or similar weapon, designed and manufactured for military purposes, and the ammunition for that weapon;
Any firearm muffler or suppressor; or
Any combination of parts that is intended by the owner for use in converting any firearm or other device into a dangerous ordnance.
A dangerous ordnance does not include any of the following:
Any firearm, including a military weapon and the ammunition for that weapon, and regardless of its actual age, that employs a percussion cap or other obsolete ignition system, or that is designed and safe for use only with black powder;
Any pistol, rifle, or shotgun, designed or suitable for sporting purposes, including a military weapon as issued or as modified, and the ammunition for that weapon, unless the firearm is an automatic or sawed-off firearm;
Any cannon or other artillery piece that, regardless of its actual age, is of a type in accepted use prior to 1887, has no mechanical, hydraulic, pneumatic, or other system for absorbing recoil and returning the tube into battery without displacing the carriage, and is designed and safe for use only with black powder;
Black powder, priming quills, and percussion caps possessed and lawfully used to fire a cannon of a type defined in division (L)(3) of this section during displays, celebrations, organized matches or shoots, and target practice, and smokeless and black powder, primers, and percussion caps possessed and lawfully used as a propellant or ignition device in small-arms or small-arms ammunition; or
Dangerous ordnance that is inoperable or inert and cannot readily be rendered operable or activated, and that is kept as a trophy, souvenir, curio, or museum piece.
Aggravated assault is a fourth-degree felony. The crime can become a third-degree felony if the alleged victim is a peace officer or an investigator of the bureau of criminal identification and investigation.
---
Aggravated Assault Penalties in Cincinnati
Convictions of aggravated assault are generally punishable as follows:
Fourth-Degree Felony— Up to 18 months in prison and/or a fine of up to $5,000; or
Third-Degree Felony— Up to five years in prison and/or a fine of up to $10,000.
Regardless of whether an alleged offense is a third-degree felony or fourth-degree felony, the court will sentence the alleged offender to a mandatory prison term as provided in Ohio Revised Code § 2929.14(B)(8) if the alleged offender is convicted of or pleads guilty to a specification as described in Ohio Revised Code § 2941.1423, relating to the alleged victim of an alleged offense being a woman whom the alleged offender knew was pregnant at the time of the alleged offense.
If the alleged victim of the alleged offense is a peace officer or an investigator of the bureau of criminal identification and investigation, and the alleged victim suffered serious physical harm as a result of the commission of the offense, the court will impose a mandatory prison term.
---
Defenses to Aggravated Assault Charges in Cincinnati
A person who has been charged with aggravated assault stands the risk of serious punishment and substantial fines. The consequences from a conviction can change the course of a defendant's life. The purpose of obtaining strong legal counsel is to ensure that the fate of the accused does not rest solely in the hands of an overzealous prosecutor and jury who want to do right by the victim.
A strong criminal defense lawyer will overcome these challenges by mounting a strategic defense on behalf of their client. Several defenses can result in charges being reduced or even dismissed. The best strategy for any given case depends on the circumstances, facts, and the prosecution's case.
Examples of viable defenses against an aggravated assault charge include the following:
·      Lack of Intent
The prosecution cannot prove that the accused assaulted the victim on purpose, rather than by accident.
·      Consent
The victim gave the defendant permission to act in the way they did.
·      Insufficient Evidence
The prosecution does not present sufficient evidence to prove that you committed the aggravated assault.
·      Self-Defense
The defendant assaulted the "victim" in order to protect themselves or someone else from being harmed by the "victim."
·      Violation of Constitutional Rights
Every criminal defendant has Constitutional rights, and if the police violate those rights while making the arrest or investigating the offense, this should be grounds for suppressing evidence and possible dismissal of charges.
An aggravated assault lawyer with our firm will investigate the details of your arrest, questioning, and other key areas and will assess the prosecution's evidence against you to construct a sound defense on your behalf.
---
Ohio Aggravated Assault Resources
You can read section 2903.12 of Ohio's Revised Code to understand how the state defines aggravated assault. Section 2923.11 of Ohio's Revised Code explains how the state defines various weapons-related definitions that can apply to a charge of aggravated assault.
The Hamilton County Mental Health and Recovery Services Board is the county government agency responsible for planning, funding, and evaluating the effectiveness of community mental health services available to county residents.
On this section of the board's website, you can view a listing of different anger management services in the Cincinnati area. You can search for other services by category, keyword, or program or agency name.
Hamilton County Mental Health and Recovery Services
2350 Auburn Ave.
Cincinnati, OH 45219
(513) 946-8600
In August 2014, Sean Channels was indicted on one count of felonious assault, one count of carrying a concealed weapon, and one count of aggravated menacing, but he entered a plea of guilty one year later to the charges of carrying a concealed weapon and aggravated assault (which was amended down from felonious assault, while the aggravated menacing charge was dismissed).
Channels contended in his appeal that the trial court abused its discretion by failing to grant his pre-sentence motion to withdraw his guilty plea. Based upon the holding of In re J.T., supra, Channels claimed that because he had an inoperable gun, he could not be found guilty of aggravated assault. On August 19, 2016, the Second District Court of Appeals sustained Channels' sole assignment of error and reversed the judgment of the trial court, remanding the case for further proceedings.
This site reminds victims of assault that they are not alone and that there is plenty of help out there. You want to ensure your safety by reporting the incident to local law enforcement. There are victim assistance programs, support groups, and your state's crime victim compensation program that may offer you reimbursement if you qualify.
National Organization for Victim Assistance (NOVA)
NOVA is the oldest national victim assistance organization of its type in the United States. They lead in victim advocacy, education, and credentialing. This organization helps connect victims to services close to home.
---
Aggravated Assault Arrest News in Cincinnati
January 27, 2021
Kenneth Stone of Cody, Wyoming, had three prior felonies on his criminal record when he drifted into the wrong lane on U.S. 14-16-20 and crashed into the vehicle driven by a young Ohio man. A police investigation showed that Stone was under the influence of alcohol, muscle relaxers, and sleeping pills while he was driving, although his blood alcohol concentration was well below the legal limit when he was tested three hours after the collision.
Stone was charged with two felonies—aggravated assault and battery with a deadly weapon while DWI and causing bodily injury. He posted a $250,000 cash bond and pleaded guilty. His bond was lowered with the provision that he wear a GPS monitor, surrender his passport, and restrict travel within Wyoming and Montana. Prosecution is seeking a life sentence for Stone.
December 17, 2020
Hamilton Police Department reported that a 21-year-old woman, Aerial Katelynn Brazzell, was playing with a gun and pointed it at a 16-year-old before the gun fired and hit the teen in the head. Brazzell was arrested and charged with aggravated assault and reckless homicide. The victim was pronounced dead after being transported to Ft. Hamlton Hospital. Brazzell's court date has not been set. She is being detained at the Butler County Jail.
May 7, 2020
A Hamilton woman was allegedly driving impaired and caused a crash that seriously injured two students from Edgewood High School. The woman, Samantha Harvey, ran a red light and crashed into the vehicle being driven by 16-year-old student Savannah Schlueter. Caila Nagel, 17, was also in Schlueter's vehicle. Harvey was charged with two counts of aggravated vehicular assault and with operating a vehicle under the influence of alcohol or a drug. Harvey did not suffer injuries, but both girls remained hospitalized at the University of Cincinnati Medical Center, as of the writing of this article.
January 13, 2020
A man with a prior conviction of aggravated assault was suspected of firing shots in a vacant home, then turned the gun on an investigating police officer and started firing. The man, Steven Phifer, did not answer the door when police tracked him down. He was eventually found hiding in a closet with a stolen firearm. Phifer was being held on a parole violation at the time of the article's publication, and law enforcement was awaiting the return of a forensic report to establish whether to file a new charge against the man.
---
Q&As About Aggravated Assault in Cincinnati
Q: When can people be charged with this aggravated assault in Ohio?
A: According to Ohio Revised Code 2923.11, a person can be charged with aggravated assault in Ohio when they use a deadly weapon or dangerous ordnance that results in serious physical harm to another person or another person's unborn child.
Q. How long can alleged offenders be sentenced to prison if convicted of aggravated assault in Ohio?
A: Aggravated assault is charged as a fourth-degree felony in Ohio, an offense that carries a prison sentence of 18 months to six years.
Q. What are some defenses against aggravated assault charges in Cincinnati?
A: Lawyers can draw on any of multiple defenses for aggravated assault charges in Cincinnati, the most common of which include:
Insufficient evidence
Self-defense
Lack of intent
Consent
Violation of Constitutional rights
Q. Can I reduce aggravated assault to assault in Ohio?
A: Yes, aggravated assault charges in Ohio can be reduced to assault via a plea bargain with the prosecution or by weakening the prosecution's argument or evidence, including evidence of intent.
Q. What are types of evidence in aggravated assault defense cases in Ohio?
A: As with any Ohio crime, aggravated assault cases require that the prosecution prove their case beyond a reasonable doubt. A common form of evidence prosecutors use to prove their case is witness testimony. Investigators may also search your computer, home, or workplace, and they can check your fingerprints, as well as traces of DNA. Finally, they can use as evidence any weapons or spent ammunition recovered at the scene of the alleged aggravated assault.
Q. Where can I learn more about aggravated assault in Cincinnati?
A: You can read about Ohio's laws related to aggravated assault in Ohio Revised Code 2923.11. You can also learn about how courts interpret and apply this law by reading the Second District Court of Appeals' decision in State v. Channels, 2016-Ohio-5438, where the defense sought to withdraw a guilty plea for aggravated assault charges because the defendant's gun was inoperable.
---
Aggravated Assault Lawyer in Cincinnati
If you were arrested for an alleged aggravated assault offense anywhere in southwest Ohio, it is in your best interest to seek legal representation as soon as possible. Joslyn Law Firm aggressively defends clients accused of assault crimes in Springfield, Symmes, Blue Ash, Colerain, Forest Park, Miami, Montgomery, Reading, and many surrounding areas of Hamilton County.
Cincinnati criminal defense attorney Brian Joslyn will work tirelessly to possibly get your criminal charges reduced or dismissed. He can review your case and devise a strategic defense aimed at obtaining the best possible outcome for you. Call (513) 399-6289 or complete an online contact form to get started.
---