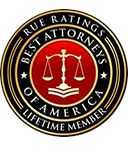 "Brian Joslyn is an Award-Winning Criminal and DUI Defense attorney who, along with his team at The Joslyn Law Firm, have handled hundreds of criminal cases and helping their clients obtain the best results possible."
Cincinnati Public Indecency Lawyers
If you were charged with the crime of public indecency under Ohio's Revised Code § 2907.09 in Cincinnati, Ohio, you could face time in jail, fines, and having to register as a sex offender. To be certain your rights as a criminal defendant are protected, contact an experienced criminal defense attorney at Joslyn Law Firm in Cincinnati, Ohio.
Brian Joslyn has been nationally ranked, earning a "Top 10 Under 40 Attorney Award" from the National Academy of Defense Attorneys and recognition from Super Lawyers as a "Rising Star." He was also named as one of Central Ohio's "Top Lawyers" by Columbus CEO Magazine. Our firm has defended clients throughout the Cincinnati area in a total of more than 15,000 cases to date.
Joslyn Law Firm represents clients charged with sexually motivated crimes throughout Cincinnati and Hamilton County. If you were arrested in the enclaves of Cincinnati, including Norwood, Elmwood Place, and Saint Bernard, we will defend you against these charges.
---
Cincinnati Public Indecency Lawyers
A public indecency conviction can damage your reputation. It can also cost you financially in terms of fines—and you might even face time behind bars. If you have been arrested for this offense, it is in your best interest to hire legal counsel immediately.
Joslyn Law Firm strongly believes in preserving the rights and dignity of the accused. Our team's deep criminal defense experience will put your mind at ease—especially when you see the extent of Brian Joslyn's familiarity with local courts and judges, prosecutors, probation officers, and court personnel.
The attorneys at Joslyn Law Firm fight cases after an arrest in the cities of Blue Ash, Cheviot, Deer Park, Forest Park, Harrison, Village of Indian Hill, Madeira, Montgomery, Mount Healthy, North College Hill, Norwood, Reading, Silverton, Springdale, St. Bernard, and Wyoming.
Brian Joslyn also represents clients in Ohio's third-most populous county, Hamilton County, and the adjacent counties of Butler County to the north, Warren County to the northeast, and Clermont County to the east.
A sex offenses lawyer can benefit your case. Call Joslyn Law Firm today at (513) 399-6289 for a free consultation.
---
Cincinnati Public Indecency Information Center
---
Public Indecency Charges in Cincinnati
Senate Bill 245, effective April 4, 2007, changed the degree of the offense of public indecency but did not change the elements of this offense. Under Ohio law, the prosecution in a public indecency case must prove the elements of the offense under Ohio's Revised Code 2907.09 beyond all reasonable doubt.
This proof must include evidence that the defendant acted under one of the following circumstances:
Their actions were likely viewable by others in their proximity
People who would view the defendant's actions were not members of the defendant's household
Behaved recklessly
Acted in the presence of a minor, who is not the defendant's spouse, and who lives with the defendant
The prosecution must also prove that the defendant committed one or more of the following acts:
Exposed their private parts to either achieve personal sexual arousal or gratification or to entice the minor to engage in sexual activity
Masturbated
Engaged in some form of sexual conduct
Engaged in some behavior that would appear, in the eyes of an ordinary observer, to be either masturbation or sexual conduct
The jury instructions for public indecency by the Ohio Judicial Conference are found in 2 OJI-CR 507.09 for offenses committed on and after September 26, 2005. The jury instructions were last revised on February 24, 2007.
Definitions Under the Public Indecency Statute
The phrase "likely to be viewed by and affront" is defined to mean that reasonable persons of common intelligence who are likely to view the conduct would likely be offended if they saw the conduct.
"Private parts" refers to genitals, although in State v. Jetter (1991), 74 Ohio App.3d 535, the court held that the term "private parts" in the public indecency statute did not include a female breast.
The term "masturbation" means genital self-excitation, usually by manipulation. "Sexual activity" means sexual conduct or sexual contact, or both. "Privilege" means an immunity, license, or right conferred by law or bestowed by express or implied grant, or arising out of status, position, office, or relationship, or growing out of necessity.
Under the public indecency statute, a "minor" is a person under the age of eighteen.
---
Penalties for Public Indecency in Ohio
Charges for public indecency in Cincinnati depend on which aspects of the state's public indecency laws the alleged offender violated.
Exposing Private Parts
First offense: fourth-degree misdemeanor
Subsequent offense: third-degree misdemeanor
Third offense: second-degree misdemeanor
Third offense with a minor: first-degree misdemeanor
Fourth or more offense: first-degree misdemeanor
Fourth or more offense with a minor: fifth-degree felony
Engaging in Masturbation or Sexual Conduct or Acting in a Way that Would Appear to be Masturbation or Sexual Conduct
First offense: third-degree misdemeanor
Subsequent offense: second-degree misdemeanor
Subsequent offense with a minor: first-degree misdemeanor
Third offense: first-degree misdemeanor
Third-degree with a minor: fifth-degree felony
Exposing Private Parts for Personal Sexual Arousal or Gratification or to Entice a Minor to Engage in Sexual Activity
First offense: first-degree misdemeanor
Subsequent offense: fifth-degree felony
Penalties and Punishments for Various Charges in Ohio
The following punishments and fines apply to the corresponding criminal charges in Ohio:
Felony of the fifth degree: Prison term between 6 and 12 months and a fine up to $2,500
Misdemeanor of the first degree: Jail time of up to 180 days and a fine up to $1,000
Misdemeanor of the second degree: Jail time of up to 90 days and a fine up to $750
Misdemeanor of the third degree: Jail time of up to 60 days and a fine up to $500
Misdemeanor of the fourth degree: Jail time of up to 30 days and a fine up to $250
Classification as a Sex Offender
In some cases, it falls on the court's discretion whether to classify a public indecency offender as a tier I sex offender or child-victim offender (the latter would apply in cases of exposing to a minor to entice them to engage in sexual conduct). The court may make this decision if the offender is less than 10 years older than the other person involved, or if their age is greater than 10 years more than the other party, it is a first offense.
However, if a person is more than 10 years older than the involved individual and has been previously convicted or pleaded guilty to this section of the Ohio R.C., the court will automatically issue an order classifying the defendant as a Tier I sex offender/child-victim offender.
As the Franklin County Sheriff's Department describes, a Tier I offender must abide by sex offender registration and verification requirements every year for 15 years after they are registered. Neighborhood notifications do not apply to Tier I offender.
---
Defenses Against Public Indecency in Hamilton County
In defending their client against public indecency charges in Cincinnati, a criminal defense lawyer can choose from several defense strategies.
Procedural Defenses
In some cases, a procedural defense—one that speaks to evidentiary or constitutional violations rather than asserting innocence—presents the best potential for a positive outcome. Examples of procedural defenses include:
Illegal seizing of evidence
Failure to provide an attorney
Failure to indict
Substantive Defenses
In other cases, defense counsel opts to raise reasonable doubt as to the public indecency charges by creating reasonable doubt. Examples of this type of defense include:
Defendant's actions did not constitute indecent conduct.
Defendant was married to the other party.
The other party was an adult member of the defendant's household.
The alleged victim was not in the defendant's physical proximity.
The victim was not offended by the defendant's conduct.
---
Additional Resources for Public Indecency in Cincinnati
Visit Ohio's Revised Code under Title 29 for sexually motivated offenses, including public indecency charged under 2907.09, including the elements of the offense, possible penalties, statutory definitions, and defenses.
As the primary law enforcement agency for the City of Cincinnati, this department employs 1,000 police officers. Use this website to file a complaint, ask questions, request records and reports, and access other services. You can report a case of public indecency to the Cincinnati Police Department.
The YWCA offers a Violence Prevention and Intervention program that provides intervention services, shelter and housing, and youth services and resources to the people of Cincinnati. The organization's Domestic Violence Hotline is available 24 hours to those who need guidance in safety planning, risk assessment, crisis counseling, and support. Visit the YWCA website or call the hotline at 888-872-9259.
This section of the Ohio Revised Code explains Ohio's laws regarding having your public indecency conviction record sealed. The law explains time constraints as they relate to various levels of charges. It also explains the procedure for petitioning a court of common pleas for the sealing of your record, as well as the process you can expect to follow the filing of your application.
U.S. Supreme Court Case Barnes v. Glen Theatre, Inc.
This paper, published in Middle Tennessee State University's The First Amendment Encyclopedia, discusses the landmark Supreme court decision, Barnes v. Glen Theatre, Inc. addressed the issue of whether the state of Indiana's regulation of totally nude dancing would be in violation of the First Amendment.
The court ruled the state could, in fact, regulate this type of entertainment without committing a First Amendment violation. The case stemmed from two Indiana nude dancing establishments that tried to block enforcement of public indecency statutes, which required that dancers wear pasties and G-strings.
---
News About Public Indecency in Ohio
February 11, 2021
"Man Accused of Exposing Himself to Woman at Tri-State Hotel"
Kyle Langdon of Hillsboro was arrested on public indecency charges when he exposed himself to a woman at a hotel swimming pool, reported Fox19 NOW. The woman said she was in the pool when Langdon kept walking by and staring at her. She eventually called the hotel, and they sent an employee to escort her from the pool. The man began to follow her, not knowing she had an escort. She called the police, who found Langdon and arrested him. He admitted to exposing himself and was released on his own recognizance.
November 17, 2020
"Documents: 15-Year-Old Targeted 4 Women in Series of Sex Crimes"
Seventeen-year-old David McBride was prosecuted as a juvenile for a series of sex offenses he committed when he was only 15, according to The Enquirer. His case was since moved to adult court where he entered a plea of guilty to charges of attempted rape and rape. He was sentenced to 18 years in prison. McBride's entanglement with the law began in 2018 when he exposed himself to a female mail carrier while engaging in sexual activity.
He asked her for oral sex and tried to get into her vehicle. An individual later called 911 to report seeing McBride exposing himself to women in a parking lot. He pulled a gun on two women, in separate actions and in the same parking lot, forcing each to give him oral sex. After grabbing another woman by the buttocks several days later, police found McBride and arrested him. He had been charged with public indecency in 2016.
October 21, 2020
"Mason Man Accused of Sex Crimes Against Two 12-Year-Old Girls Arrested Four Days After Indictment"
The Enquirer reported the arrest of Eric S. Schmidt, who was subsequently indicted on first-degree rape, two charges of gross sexual imposition, and two charges of public indecency. Schmidt was the former Kings Youth Football League assistant coach. His victims were two 12-year-old girls.
September 10, 2020
"Court Docs: Hamilton Attorney Accused Multiple Times of Nudity, Public Indecency"
Journal-News wrote that Scott Blauvelt, a former Hamilton city prosecutor, was arrested for driving naked and exposing himself to a woman. Police booked him, and he was scheduled to appear before a judge. This is not the first time Blauvelt has been arrested for public indecency. In 2006, he lost his job after being caught walking through a government building. In 2019, Blauvelt pleaded guilty to yet another public indecency charge. His 30-day sentence was suspended.
April 21, 2020
"Police: Man With 15 Years of Public Indecency Charges Arrested After Exposing Himself at Gas Station, Bar"
Keith Alan Barker was indicted for multiple instances of indecent exposure—after being recently released from prison for the same offense, according to The Enquirer. Between March 20 and 21, Barker exposed himself to a 15-year-old and a 23-year-old woman at a gas station on South Main St., as well as a couple at a bar on the same street. Barker's history of public indecency charges goes back over 15 years. Barer does not currently appear as a sex offender in Ohio.
---
Frequently Asked Questions About Public Indecency Charges in Hamilton County
Q. What is public indecency in Ohio?
A. According to Ohio law, public indecency takes place when an individual commits some form of sexual conduct that other people can see and by which others would be offended.
Q. How long is jail time for public indecency?
A. In Ohio, the time you serve for public indecency depends on multiple factors, including whether it is your first offense and whether a minor was involved. Prosecutors will determine the charge for an alleged offender. If convicted, the offender could serve anywhere from 30 days for a fourth-degree misdemeanor up to 12 months for a fifth-degree felony.
Q. What types of acts are considered public indecency in Cincinnati?
Ohio law considers the following actions to be acts of public indecency:
Exposing private parts as a means of sexual arousal or gratification or to lure a minor into sexual activity
Masturbating
Engaging in sexual conduct
Doing something that might appear to onlookers to be either masturbation or sexual conduct
Q. Is it illegal to pee in public in Ohio?
A. Yes, as in most states, it is against the law to publicly urinate in Ohio. Offenders can be charged with indecent exposure and public indecency. Depending on the circumstances of your case, you could be forced to register as a sex offender if convicted of such charges.
Q. How can I beat a public indecency charge in Cincinnati?
A. A lawyer can raise either procedural or substantive defenses to beat a public indecency charge. In the former, your attorney might argue that evidence was illegally seized, for example. In a substantive defense, your lawyer might argue any of the following:
Their client's actions did not qualify as indecent conduct.
Their client and the alleged victim were married.
Their client and the adult alleged victim shared the same household.
The alleged victim was not physically near the client.
Their client did not offend the alleged victim.
---
Cincinnati Public Indecency Defense Lawyers
If you were cited for the criminal offense under Ohio's Revised Statute 2907.09 for public indecency, consider seeking out the services of a criminal defense attorney. During the free consultation, you can learn more about the charge pending against you, ways to avoid the typical penalties, and the best defenses to fight the charges.
Call Joslyn Law Firm today at (513) 399-6289 to discuss your case.
---