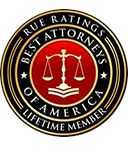 "Brian Joslyn is an Award-Winning Criminal and DUI Defense attorney who, along with his team at The Joslyn Law Firm, have handled hundreds of criminal cases and helping their clients obtain the best results possible."
Cincinnati Rape Defense Attorneys
Defending against rape charges in Cincinnati means more than just defeating the legal elements of state laws. It also means defending against an attempted assassination of character, protecting your professional reputation, and mitigating the effects of a rape investigation on loved ones.
Joslyn Law Firm is here to defend you against charges that could change the course of your personal and professional life. We will handle your case with skill and professionalism. Our firm has handled over 20,000 cases, and our lead attorney, Brian Joslyn received a "Top Lawyers" designation from Columbus CEO Magazine in 2015.
Cincinnati Rape Defense Lawyers
Uncorroborated victim testimony is not enough to sustain rape charges in Cincinnati. With its experience handling rape cases, the lawyers at Joslyn Law Firm know how to target key pieces of the prosecution's evidence and raise other defense strategies that may prompt a court to dismiss or reduce the charges against you.
The Cincinnati rape defense lawyers at Joslyn Law Firm understand the intricacies and difficulties associated with Cincinnati rape prosecutions. These cases can take a heavy emotional toll on all parties. If you have been charged with rape in Cincinnati, you should know that you are innocent until proven guilty beyond a reasonable doubt.
Brian Joslyn's choice to practice criminal defense law stemmed from his own unfortunate experience with police brutality as a teen. Today, he and his team of attorneys defend clients accused of rape and related sex crimes in Cincinnati, treating every client with dignity and respect.
Contact our Cincinnati defense team today by calling (513) 399-6289 for your free and confidential rape defense consultation.
Cincinnati Rape Defense Information Center
---
Overview of Cincinnati Rape Charges under Ohio Code § 2907.02
There is no universal definition of rape in the United States. Instead, "rape" is defined differently by each of the 50 states. Conduct constituting rape in New York may not be a sex crime in Ohio. For this reason, it is important to understand how Ohio defines "sex" and the types of sexual conduct that constitute rape in Cincinnati.
Understanding Rape Charges in Ohio
In Cincinnati, rape is criminalized by Ohio Code § 2907.02. Those charged with rape in Ohio's state courts will be indicated under this code section. The majority of Cincinnati rape defendants are charged in state court, not federal court. Rape is the most serious sexual offense in Ohio, and it is punishable as a felony in the first degree. Rape may even be punishable by a mandatory life sentence without the possibility of parole.
The Possibility of Lesser Charges
A Cincinnati rape indictment will likely contain certain lesser criminal or lesser-included sex offense charges pursuant to Ohio Code § 2907. These may include sexual battery, unlawful sexual conduct with a minor (statutory rape), gross sexual imposition, assault, battery, and domestic violence.
If prosecutors are unable to prove every element of rape under § 2907.02, defendants may still be convicted of a lesser-included sex offense. Those charged with rape in Cincinnati may retain a sex crimes defense lawyer from our firm to present a holistic defense to rape and lesser-included sex crimes charges under Chapter 2907.
---
How Does Rape Differ from Related Sex Crimes in Cincinnati
Because rape is a first-degree felony in Ohio, prosecutors must generally introduce specific evidence of the defendant's criminal intent (mens rea) and qualifying sexual conduct (actus reus).
Insufficient evidence of either may result in the dismissal of rape charges, but Cincinnati sexual assault prosecutors can pursue different or lesser-included criminal charges. Lesser-included offenses are those the defendant would necessarily have committed if convicted of rape, while lesser sex crimes cover slightly different types of sexual conduct.
Legal Elements of Rape in Ohio
An offender cannot be convicted of rape and a lesser-included offense, but they can be convicted of rape and a distinguishable lesser crime. If any of the following describes the defendant's actions prior to engaging in sexual conduct as defined below, he or she may be charged with rape in Cincinnati:
The victim was under the age of 13, regardless of whether the defendant was aware of the victim's age
The offender incapacitated the victim with drugs or alcohol for the purpose of preventing resistance to the sexual conduct
The offender engaged in sexual conduct with a victim who was unable to consent or resist the offender due to his/her age, mental disability, and/or physical limitations of which the defendant was aware
The offender physical restrained or harmed the victim or compelled him/her to submit to the sexual conduct by force or threat of force
Key Terms in a Rape Charge and Other Sex Offenses
Only "sexual conduct" as defined by the Ohio Revised Code leads to rape charges, while related Ohio sex offenses may criminalize both "sexual conduct" and "sexual contact." The terms are defined as follows:
Sexual Conduct– Nonconsensual vaginal, anal, or oral sex between persons, whether penetration is accomplished by a body part, instrument, or other apparatus, and regardless of the parties' genders. Oral sex, anal sex, and even slight vaginal penetration are considered sexual conduct and sufficient to sustain rape charges.
Sexual Contact– Any touching of another person's erogenous (stimulating) zones for the purpose of sexual arousal or gratification. Erogenous zones include, but are not limited to, genitals, buttocks, thighs, or female breasts. Sexual contact may occur in the course of sexual conduct but is not punishable as rape on its own.
Sexual Activity– Either sexual conduct, sexual contact, or both. Some Ohio sex crimes criminalize all sexual activity, but this is not true of the rape statute.
Depending on the defendant's unique actions, an offender may also be charged with one of the following sex offenses in Cincinnati:
Sexual Battery
Having sexual intercourse with one who is substantially impaired, unconscious, or subject to undue coercion. For example, if prosecutors cannot prove the defendant actually administered the intoxicating substance to the victim, they may charge the defendant with sexual battery (Ohio Code § 2907.03).
Sexual battery also criminalizes sexual conduct between two parties when one is a minor and/or the offender is in a relationship of power with the victim. Sexual battery is felonious and often a lesser-include offense of rape in Cincinnati.
Unlawful Sexual Conduct With a Minor (Statutory Rape)
When someone over the age of 18 engages in sexual conduct, even consensual sexual conduct, with someone between the ages of 13 and 16. Statutory rape (Ohio Code § 2907.04) is traditionally a felony but may be a misdemeanor if the parties qualify for the Romeo and Juliet mitigation. This is always a lesser-included offense of rape if the victim was between 13 and 16 years of age.
Gross Sexual Imposition & Sexual Imposition (Molestation)
When the offender has sexual contact with the victim against their will by force, when the victim is a minor, when the victim is impaired, or when the victim is unaware of the contact. Any unlawful contact designed to cause sexual arousal in either party is generally criminalized as sexual imposition. Gross sexual imposition (Ohio Code § 2907.05 and 2907.06) is a felony, while sexual imposition may be a misdemeanor or felony. This is nearly always a lesser-included offense of rape in Cincinnati.
Those indicted for rape in Cincinnati might see multiple charges for a single act. Prosecutors may use exaggerated indictments to coerce defendants into pleading guilty to rape before they consult with rape defense attorneys who can protect their rights.
---
Analyzing the Categories of Sexual Conduct Constituting Rape in Cincinnati
There are four distinct categories of conduct constituting rape in Ohio. Conduct falling outside of these enumerated categories is not considered rape. The four categories of rape can be summarized as follows:
Involuntary Chemical Incapacitation
Involuntary chemical incapacitation occurs when:
The offender administered a drug, intoxicating substance, or intoxicant to the victim
The administration of the intoxicant was done secretly, forcefully, threateningly, or by deception, i.e., "This will help you relax"
The intoxicant substantially impaired the victim's personal judgment or physical control
The intoxicant was administered to purposefully prevent the victim's resistance to sexual conduct
Child Rape
Prosecutors need only prove that the victim was under the age of 13 when the sexual conduct occurred. This is a strict liability crime. The defendant does not need to know the victim's age.
Mental or Physical Impairment/Elder Rape
This form of rape occurs when:
The victim's ability to consent or resist the sexual conduct was substantially impaired by a mental or physical condition or by his/her advanced age, such as someone in a nursing home; and
The offender knew or should have known the victim was so impaired.
Force/Threat of Force
The offender compelled the victim to submit to the sexual conduct by force or threat of force. Marriage is not a defense to this type of rape.
In addition to falling into at least one of these four categories, Cincinnati rape prosecutors must also show:
The parties actually engaged in "sexual conduct" as defined by Ohio Code § 2907.01
For the first three categories listed above, the parties were not "spouses" when the conduct occurred. The criteria for "spouses" are that the parties were actually living together, in a lawful marriage, and were not separated or in the process of a divorce/annulment.
Additional facts such as the actual age of the child, the victim's physical injuries, any diseases transmitted, and/or the defendant's mental state are considered during the sentencing phase of a Cincinnati rape prosecution. For example, rape of a child under 10 may result in life imprisonment without the possibility of parole, while defendants who had reason to believe the victim was over 13 may be subject to lesser penalties.
---
Cincinnati Sexual Assault Task Forces and Rape Investigation Procedures
The City of Cincinnati has both public and private task forces dedicated to investigating and preventing sexual assault. The Cincinnati Police Department's (CPD) personal crimes unit employs detectives specially trained to investigate allegations of rape and sexual assault in Cincinnati, while the Hamilton County Prosecuting Attorney's Office houses dedicated sex offender registration, felony trial, and victim-witness advocate divisions.
Multiple prosecutors and investigators work in Cincinnati and specialize in rape and sexual assault investigations. These individuals are experienced sex crimes investigators, and those accused of rape in Cincinnati may want a criminal defense lawyer from our firm with experience handling these types of cases to defend them,
Cincinnati rape investigations typically unfold as follows:
Report
The victim, the victim's loved ones, or a mandatory child rape reporter (doctor, teacher, counselor, social worker) will either contact the Cincinnati police to report an alleged rape, or police will respond to the scene of the rape and/or hospital.
Rape Kit/Initial Affidavit
If applicable, the victim will undergo a forensic rape examination, known as a rape kit exam, to preserve DNA or other evidence of sexual conduct. If the victim is under the age of 13, the presence of foreign DNA evidence is enough to file rape charges immediately. In other circumstances, this evidence must be paired with a victim's sworn testimony that nonconsensual sexual conduct occurred. The victim may also have blood taken if they allege involuntary intoxication.
In-Depth Victim Interview
Experienced sex crimes investigators will typically interview the victim and/or any witnesses to gauge the victim's truthfulness before opening a full rape investigation. Sometimes parents of minors report a "rape" when the conduct was consensual, but the victim fears parental retaliation for engaging in sexual conduct. Detectives may open a statutory rape as opposed to a rape investigation in these circumstances.
Investigation
If the victim seems truthful, sexual assault detectives will conduct a full investigation. This may include obtaining warrants for a defendant's DNA or searching the crime scene. Investigators might interview a defendant's family members, friends, and all potential witnesses.
Importantly, they may attempt to interview and trap the defendant before they have the chance to retain a criminal defense attorney. A lot of corroborating evidence can come from a defendant's testimony, but the accused is not required to speak with police and cannot be retaliated against for refusing to do so.
Indictment and Arrest
Once detectives gather evidence of every element of rape in Cincinnati, they will transfer the case to the prosecutor's office. Because rape is always a felony, prosecutors must bring the evidence before a grand jury.
If the grand jury indicts the defendant for rape under Ohio Code § 2907.02, an arrest warrant is issued, and the defendant is arrested and officially charged with rape in Cincinnati. This triggers the defendant's right to demand the appointment of a criminal defense attorney.
Defendants do not need to wait until they are arrested before contacting a rape defense lawyer from our firm. If you have been contacted about a potential sexual assault, you have the right to respectfully refuse to speak with the police until you confer with your sex crimes defense lawyer.
A Cincinnati criminal defense attorney from our firm can determine whether it is in your best interest to give a statement.
---
Testimonial & Physical Evidence Commonly Introduced in Cincinnati Rape Cases
Due to the delicate nature of rape prosecutions, special evidentiary rules and procedures apply to Cincinnati rape cases. Sexual assault investigators do not face many restrictions when obtaining evidence, but attorneys are limited in the testimonial evidence they can introduce during rape proceedings.
Physical Evidence
Physical evidence, such as the evidence obtained from a rape kit, is not limited provided investigators gathered the evidence according to Fourth Amendment procedures, and the evidence is deemed scientifically reliable and is not more prejudicial than probative to the case. Physical evidence commonly gathered and introduced during Cincinnati rape proceedings includes:
Biological evidence gathered from the victim's body to determine the presence of foreign DNA (sperm, blood, pubic hair, or skin cells)
DNA samples from all parties
Pubic hair samples from the parties
Drug test results from the victim's blood and hair if involuntary intoxication is claimed
Clothing fibers and evidence from under the victim's fingernails
The victim's clothing from the date of the offense
Physical evidence gathered from the alleged scene of the rape such as bedding, condom wrappers, clothing, and/or drug paraphernalia
Testimonial Evidence
Testimonial evidence is more complex. Witnesses, the victim, and the defendant may testify about the event in question. They may give their version of the facts and testify about the sexual conduct. We recommend that defendants only testify with the guidance of a rape defense attorney.
However, the Ohio rape statute prohibits the following information from being introduced during rape prosecutions unless (1) prosecutors introduce the evidence for an enumerated purpose, i.e., to prove motive or that any DNA evidence gathered was from another party; and (2) the Cincinnati judge holds a private evidentiary hearing to weigh the value of the evidence and approve its limited introduction:
Testimony going towards the defendant's past sexual history, specific instances of sexual activity, opinion evidence regarding his/her sexual activity, and sexual reputation
Testimony going towards the victim's past sexual history, instances of sexual activity, opinion evidence regarding his/her sexual activity, and sexual reputation
Evidence of the parties' overall sexual history unless it is material to the case and involves (1) the origin of semen, pregnancy, or an STD; (2) is related to the past sexual history between the parties; and/or (3) goes directly to the defendant's motive for committing the rape.
Immediately prior to trial, the judge will hold a hearing outside the presence of the jury during which the parties can argue for and against the introduction of the above testimonial evidence.
Private counsel may represent the victim's personal interests during this hearing if they conflict with the prosecution's position. Aside from this unique pretrial hearing, the criminal court process for Cincinnati rape prosecutions follows normal felony-level criminal procedures.
---
Common Legal Defenses to Ohio Rape Charges
Prosecutors have the burden of proving guilt beyond a reasonable doubt, but if they present sufficient evidence to the jury, the burden of raising a defense to Cincinnati rape charges falls on the defendant. A defendant's legal defense may be strong enough that an experienced Cincinnati rape defense lawyer can convince prosecutors to drop rape charges before trial. Alternatively, a strong defense to rape may result in a beneficial plea deal or substantial sentencing mitigation.
Some of the most common legal defenses to rape charges in Cincinnati include the following.
Consent
Sex is generally not criminal. Rape constitutes a crime because of the victim's lack of clear or legal consent to the sexual conduct. The defendant's belief that the victim consented does not sufficiently justify the sexual conduct, but it may be raised as a defense to rape with the right evidence.
Consent is a complete defense to rape unless the victim was disabled, under the age of 13, or the defendant has been charged with statutory rape. The victim's testimony alone is not enough to prove a lack of consent. It must be supported by additional evidence of nonconsensual sexual conduct.
DNA/Rape Kit Abnormalities
Traditional rape kit examinations must happen within three days of the sexual encounter to obtain foreign DNA evidence, i.e., sperm. A substantial delay in submitting to a rape kit exam may result in a loss of crucial DNA evidence.
A Cincinnati sexual assault defense attorney from our firm might argue that evidence from a delayed rape kit, i.e., a traditional exam conducted two weeks after the alleged rape, is more prejudicial than probative. He may also argue that refusal to submit to a rape examination is evidence of a consensual encounter.
Marriage
Marriage may constitute a complete defense to a rape charge. However, the parties must have been living together in a valid marriage at the time of the alleged sexual conduct. While the spousal rape exception is often criticized, rape allegations do arise during acrimonious child custody and divorce proceedings. These allegations may be used to discredit another party.
It is important to realize that a person may not be prosecuted for certain categories of rape if they and the alleged victim were married and cohabiting at the time of the sexual conduct. The exception does not apply to forcible rape or if the parties were separated, divorcing, or in the process of annulment.
Statute of Limitations Defense
The statute of limitations for rape in Ohio is 25 years, per Ohio Code § 2901.13. A rape prosecution must commence within 25 of the alleged act or 25 years after the victim reaches 18, whichever is later. There are some exceptions to these limitations, including a later discovered DNA match, which extends the statute of limitations by five years. If charges are not filed within the specified time frame, a rape indictment must be dismissed.
Constitutional Challenges
Failure to indict, appoint defense counsel, impanel an impartial jury, present the defendant with witnesses against him, and/or prosecute the crime in accordance with the "speedy trial" deadline are common constitutional defenses to all criminal charges. These are in addition to the more common constitutional evidentiary defenses arising under the Fourth Amendment.
Fourth Amendment Evidentiary Defenses
Any evidence obtained during sexual assault investigations must be gathered in accordance with the Fourth Amendment. The Fourth Amendment requires law enforcement to have a valid warrant based on probable cause, not a "hunch," to obtain most evidence. Evidence obtained in violation of the Fourth Amendment must be excluded from consideration at trial. Furthermore, any evidence gathered as a direct result of an illegal seizure must also be excluded.
Not every defense applies to each category of rape or is available in each rape prosecution. For example, consent is never a defense to the rape of a child, and marriage is not a defense to violent rape.
A Cincinnati sexual assault defense attorney from our firm can analyze a rape indictment and determine which procedural, evidentiary, constitutional, and affirmative defenses are available in a specific case.
---
Possible Direct Penalties for Cincinnati Rape Convictions
Rape is a first-degree felony, per Ohio Code § 2929.14. This is the highest-level felony in Ohio. The penalties for first-degree felonies range from five years to life imprisonment without the possibility of parole, as well as a fine of up to $20,000. While Ohio judges typically have discretion during rape sentencings, some statutory mandatory minimum penalties exist for rape in Cincinnati. Once convicted, a defendant will be punished, at minimum, as follows:
Five years of mandatory imprisonment for rape facilitated by involuntary intoxication or force
Life imprisonment without the possibility of parole for the violent rape of a child under 10 years of age, as set forth by Ohio Code § 2971.03.
Life Imprisonment Penalty for Rape
Judges may impose harsher penalties depending on the facts. Cincinnati judges can also sentence a convicted rapist to a term of life imprisonment without the possibility of parole if:
The rape involved a child victim under the age of 10.
The rape involved violence.
The victim suffered physical harm.
The offender has previously been convicted of rape or a substantially similar crime in any jurisdiction.
There is an exception to life imprisonment if the offender was under the age of 16, the victim over the age of 10, the offender did not physically harm the victim, and it was a first-time offense.
Additional Penalties for Rape
Additional mandatory and/or direct penalties for a Cincinnati rape conviction include:
Mandatory life registration on the Ohio Sexual Offender Registry and the prohibitions stemming therefrom
Mandatory post-release control/probation
Mandatory restitution to the victim for any costs incurred as a result of the rape, such as medical and psychological bills
Attendance at drug, alcohol, and/or sex offender rehabilitation programs
Payment of all investigation and court costs in addition to fines and restitution
Avoiding a Cincinnati rape conviction is the only way to spare defendants the majority of these life-altering consequences, many of which judges have no choice but to impose. A conviction could mean life imprisonment under Ohio law regardless of any mitigating factors.
---
8. Indirect, Collateral, and Unanticipated Consequences of a Cincinnati Rape Conviction & Designation as a Sexual Offender
A sentence of life imprisonment without the possibility of parole rarely happens. Substantial prison time is typically reserved for Cincinnati's worst offenders, including child rapists and those charged with elder abuse or physical abuse of the victim. Convicted sex offenders falling outside these categories are typically released to community control after serving at least a portion of their prison sentence.
Once released, however, convicted Hamilton County rapists learn about the serious collateral and often unanticipated consequences of a Cincinnati rape conviction.
Collateral Consequences of Conviction
These consequences typically arise from designation as a felon and Tier III sex offender with a mandatory lifetime registration on the Ohio Sexual Offender Registry.
Such collateral consequences often include:
Severe residency and work restrictions within designated school zones
Appearance of personal identifying information on the Ohio Sex Offender Registry
Neighborhood notification of identity, crime, and release within 1200 feet of the offender's residential address
Mandatory check-ins with local law enforcement every 90 days for life
Loss of a job and any professional licenses
Inability to obtain a professional license
Rejection and/or inability to attend Ohio public schools and universities
Ineligibility for financial aid, home loans, and/or financing
Loss of all firearms (Second Amendment) rights for violent rapists
Loss of child custody and an inability to foster/adopt
Inability to travel out of the state or county, including an inability to travel internationally
Deportation for non-citizens and inability to obtain foreign visas
Loss of/inability to obtain certain recreational licenses, i.e., boating, hunting, fishing
Inability to utilize certain public facilities such as parks, libraries, and pools
Items Reported on the Ohio Sexual Offender Registry
The nature of these collateral consequences often depends on the facts of the case and the offender's residence, profession, and locale. In addition to these potential indirect consequences, the following information will appear on the Ohio Sexual Offender Registry:
Legal name and/or aliases (public)
Photo (public)
Home address (public)
Work address (public)
Conviction type and/or criminal designation (public)
Vehicle information (public)
Screen names (private)
Phone numbers (private)
Email addresses (private)
Any internet handles or online designations (private)
Designated Tier III sex offenders must provide all of the above information to law enforcement officials and update the same every 90 days. Failure to do so may result in a revocation of parole, additional criminal charges, and/or re-imprisonment.
---
FAQs Answered by Cincinnati Rape Defense Lawyers
Below are general answers to some of the most common questions received by Joslyn Law Firm's experienced Cincinnati rape and sex crimes defense attorneys:
Q. What is Rape in Ohio?
In Ohio, rape is generally defined as having nonconsensual sex with another person if the sex is forced by drugging the victim, violence or threats of violence, or if the victim is too young, old, or otherwise incapable of defending himself/herself. Rape may also be charged if the victim was mentally or physically disabled. Some victims are legally incapable of agreeing to the sexual conduct. "Sex" includes vaginal, anal, and/or oral sex regardless of the parties' genders.
Q. What is the Punishment for Rape in Ohio?
In Ohio, rape is a felony in the first degree punishable by anywhere from five years to life imprisonment without the possibility of parole and a fine up to $20,000. Some penalties are mandatory, while judges have the discretion to impose others. Convicted rapists are also designed Tier III sex offenders subject to lifetime registration on the Ohio Sexual Offender Registry.
Q. What is the Max Sentence for Rape in Cincinnati?
The maximum sentence for rape in Cincinnati is life imprisonment without the possibility of parole. This sentence is mandatory if the rape was of a child under the age of 10 through force and/or if the child suffered harm. This is a permissible sentence (not mandatory) if the victim was under the age of 10, the victim was physically harmed, the rape was accomplished by violence or threat of violence, or the offender was previously convicted of rape in Ohio or another jurisdiction.
Q. What Is Felony Rape?
All rape is felony rape. If you are convicted of rape in Cincinnati, you have been convicted of a first-degree felony. This term may also be used to refer to rape committed during the commission of another felony, such as murder or robbery, and criminal liability may be imputed on accomplices to the alternative felony.
Q. What Constitutes Statutory Rape in Ohio?
Statutory rape is called "unlawful sexual contact with a minor" in Ohio and differs from rape in that each party actually "consented" to the sexual conduct, but one of the parties was too young to legally do so. Statutory rape occurs if the victim was 13, 14, or 15 at the time of the sexual conduct, or the victim was 16 or 17, and the offender was at least four years older than the victim.
Any sexual conduct with a minor under the age of 13 is rape, not statutory rape, regardless of the offender's age. Statutory rape is also a felony unless the Romeo and Juliet mitigation applies.
Q. What Is Attempted First-Degree Rape?
A. Attempted first-degree rape means the offender
Intended to rape the victim
He/she took an affirmative step to accomplish the rape; but
Was stopped from engaging in the sexual conduct.
For example, an offender who drugs a victim for the purpose of rape has committed attempted first-degree rape even if the victim is thereafter saved by a friend or successfully defends against the sexual conduct. Even a minor overt step, such as bringing the date rape drug into a bar, may result in attempted rape charges for which the punishment is generally the same as a rape conviction.
Q. What Are Some Defenses Against Rape Charges?
The most common defenses to rape in Cincinnati include:
Procedural and Constitutional violations
Consent
Lack of DNA evidence
Lack of corroborating evidence
Marriage
Expiration of the statute of limitations
Age/diminished capacity of the offender
The type of defenses available to defendants depends on the category of rape charged and the circumstances of the offense.
Q. How Can a Cincinnati Rape Defense Attorney Help?
You cannot be convicted of rape in Cincinnati on the victim's testimony alone. Without corroborating DNA, testimonial, or physical evidence, prosecutors cannot sustain rape charges in Cincinnati.
Sexual assault investigators often try to glean necessary corroborating evidence from the alleged offender, including lying to get the defendant to admit he/she was at the scene of the crime. Police are permitted to do this, but defendants never have to testify against themselves. A refusal to testify cannot be used against a defendant to sustain rape proceedings.
We can help prevent you from giving rape investigators incriminating evidence. The earlier you contact a Cincinnati rape defense lawyer from our firm, the sooner we can protect your rights. Further, a criminal defense attorney from our firm can represent your interests during every stage of the proceedings, including:
Building a defense to rape charges
Challenging prosecution evidence
Negotiating for a beneficial plea deal
Fighting for acquittal or to mitigate your sentence
Appealing a rape conviction to Ohio's highest court, if necessary
Q. What Is Romeo and Juliet Mitigation in a Rape Defense?
Some charges of statutory rape can benefit from the Romeo and Juliet clause, which exempts cases of consensual sex between two individuals when one is a minor and the two parties are close in age. The age difference must be four years or less in order for this mitigation to apply as a defense strategy. When available as an exemption, this law can reduce statutory rape charges for the accused.
In Ohio, the Romeo and Juliet provision is defined in subsection (B)(2) of Ohio code § 2907.04. Despite its mitigating effect, this provision does not present a complete defense to unlawful sexual conduct with a minor in Cincinnati.
Q. What is the Statute of Limitations for Rape in Ohio?
The statute of limitations for rape in Ohio is 25 years, as defined in the Ohio Revised Code § 2901.13. However, if a DNA record matches DNA evidence found in a rape investigation, and 25 years has already elapsed since the alleged rape, the statute of limitations is extended. In these cases, prosecution may begin as long as five years after the DNA match occurs.
---
Resources for Rape and Sexual Assault in Cincinnati
This section of the Revised Code tells you everything you need to know about how Ohio defines rape offenses. It also outlines the charges that a rape offense brings and how those charges are affected under specific circumstances. The law explains various rules of evidence, such as the inadmissibility of the defendant's reputation and past sexual activity.
The Revised Code serves as an excellent resource beyond this page. By reviewing the Sex Offense page of this document, you can familiarize yourself with key terms used in 2907.02 and related sex offense descriptions.
Women Helping Women has been working since 1973 to prevent gender-based violence and help survivors recover from such experiences. Besides crisis intervention, WHW offers support services for victims of sexual violence, dating violence, stalking, and domestic violence throughout Hamilton County and Butler County.
RAINN offers its National Sex Assault Hotline (1-800-656-4673) for victims of sex crimes. The group provides an array of victim services. They also work to improve public policy and public education, as well as offer consulting services aimed at developing programs to facilitate the recovery of sex crime survivors.
The Ohio Health Sexual Assault Response Network (SARNCO), provided by OhioHealth, devises sexual violence prevention strategies for use in schools and business communities. The group also offers outreach services, as well as policy review, training and education, and a 24-hour hotline and response team for rape victims in Cincinnati.
This organization provides rape victims with immediate access to support and crisis intervention. The group seeks to empower those who have experienced the trauma of rape with tools to recover their self-sufficiency and self-esteem. Women's Crisis Center is a nonprofit social service agency that also advocates for the health, safety, and civil rights of sexual abuse victims.
---
Cincinnati Rape Defense News
Cincinnati Enquirer, November 20, 2020
Cincinnati Enquirer reported that Aaron Roco was acquitted on four counts of rape and a single count of kidnapping. The case, which was heard in a bench trial by Hamilton County Common Pleas Judge Patrick Foley, stemmed from a complaint filed by Roco's former lawyer, Jennifer Kinsley. She accused Roco of raping her in his apartment.
Concerned about the strength of the case, Hamilton County Prosecutor Joe Deters considered a plea deal with Roco. Kinsley protested in a complaint to the Ohio Supreme Court, as the deal would have meant no jail time for Roco.
Ohio Attorney General Dave Yost's office took over the prosecution. They asked the judge to allow testimony from other women who said they experienced similar attacks from Roco. The judge did not permit this testimony, saying that consideration of such evidence would prove unfair to the defendant. Foley then found Roco not guilty of all charges.
WLWT5, October 23, 2020
NBC affiliate WLWT5 reported the indictment of a former youth sports coach, Eric Schmidt, on charges of rape, public indecency, and gross sexual imposition. Schmidt was released on a $100,000 cash bond and placed on house arrest. He has been ordered to refrain from contact with children other than his own kids.
Schmidt has pleaded not guilty to allegations that he raped a 12-year-old girl in 2019 and engaged in sexual contact with another 12-year-old girl in 2015. Prosecutors asked for a high bond because of the seriousness of the allegations.
Dayton Daily News, October 14, 2020
The Cincinnati Catholic priest who allegedly repeatedly sexually assaulted an altar boy will hear the testimony of a second alleged victim, who has been granted permission to testify at the trial, according to a report from Dayton Daily News.
Geoff Drew, a 58-year-old Catholic priest, stands charged with nine counts of rape for the alleged repeated sexual assault of a former altar boy. Both victims attended St. Jude School in Green Township when the alleged grooming and assaults occurred. Both were under the age of 13.
Ohio's statute of limitations protected Drew from charges for the second victim's assaults, but the court has allowed him to testify under the realm of "character evidence," demonstrating that Drew's "big plan" involved grooming and abusing children.
WCPO Cincinnati, September 28, 2020
Cincinnati Catholic priest Geoff Drew has been sitting in Hamilton County Justice Center since he was arrested in 2019 for allegedly raping an altar boy between 1988 and 1991. According to WCPO Cincinnati, Drew's lawyer petitioned the court to lower the defendant's $5 million bond, promising that Drew would live with his mother and "do whatever is necessary…to secure his release on a reasonable bond." A three-member court unanimously denied the petition.
Appellate Judge Pierre Bergeron explained that despite the "staggering" amount, the defendant's lawyers failed to present substantial evidence that the common pleas court judge had abused her discretion in setting the bond.
Cincinnati Enquirer, August 26, 2019
An appeals court granted a new trial for Randy Hall, who was convicted of rape and gross sexual imposition involving a girl and a gross sexual imposition involving another victim. The second conviction of gross sexual imposition was overturned by the First District Court of Appeals for lack of evidence.
Three girls under the age of 13 initially accused Hall of rape, and his conviction landed him a sentence of 40 years to life. Hall has maintained that the two of the victims conspired with a third (who later recanted her allegations).
The appeals court based their decision to grant Hall a new trial on the unfairness of the first trial. The court asserted that an expert witness was sprung on the defense by prosecutors who failed to file the required expert reports. The court also found that the defendant had been unfairly "demonized" in the prosecution's closing arguments.
---
Cincinnati Rape Defense Lawyers
Those wishing to obtain more information about Cincinnati rape charges and the defenses against them should contact Joslyn Law Firm for a free, confidential rape defense consultation at (513) 399-6289.
The compassionate and professional Cincinnati rape defense attorneys at Joslyn Law Firm are dedicated to protecting the rights of those accused of rape in Ohio. Contact our Cincinnati sex crimes defense team today.
---