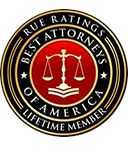 "Brian Joslyn is an Award-Winning Criminal and DUI Defense attorney who, along with his team at The Joslyn Law Firm, have handled hundreds of criminal cases and helping their clients obtain the best results possible."
Child Protective Services (CPS) Lawyers in Cincinnati
The Ohio Department of Job and Family Services (ODJFS) is responsible for state-level administration and oversight of programs that prevent child abuse and neglect. When it comes to investigating possible cases of child abuse or neglect, ODJFS has county agencies throughout the state.
Hamilton County Children's Services investigates reports of child abuse or neglect in the Cincinnati area. When a caseworker visits the home of a parent or legal guardian as part of an investigation, it can be a very frightening and confusing experience for people who typically have little understanding of what rights they have.
Lawyers for Child Protective Services (CPS) Investigations in Cincinnati, OH
Has a caseworker from Hamilton County Children's Services come to your house or have your children been removed from your home? Contact Joslyn Law Firm as soon as possible for help protecting your rights and achieving the most favorable outcome to your situation.
Brian Joslyn is an experienced criminal defense attorney in Cincinnati who defends clients accused of domestic violence crimes in Harrison, Miamitown, Colerain, Green, Miami, Symmes, Norwood, Blue Ash, Reading, and surrounding areas of southwestern Ohio. Call right now to take advantage of a free consultation that will let our lawyers review your case and discuss your legal options.
---
Overview of Child Protective Services (CPS) in Cincinnati
---
When Child Protective Services Conducts Investigations in Hamilton County
Anybody can report suspected child abuse or neglect to 241-KIDS, Hamilton County's 24-hour child abuse hotline. Various professionals—including attorneys, physicians, and teachers—are obligated under state law to report any suspected abuse or neglect, but children can also call to report possible abuse or neglect of friends or even themselves.
Children's Services will typically send a caseworker to the home of the child after a report of abuse or neglect has been received. Unless the caseworker has a court order, you are under no obligation to allow the caseworker to come into your house or speak to your children.
You also do not have to sign any paperwork the caseworker presents to you. Instead, you should immediately seek the help of a Cincinnati criminal defense attorney.
---
Child Protective Services Complaint Process in Cincinnati
If the caseworker decides, based on his or her visit, that the child or children are endangered, the parent or legal guardian may have to go to court for several kinds of hearings:
Informal Detention or Shelter Care Hearing — Shelter care hearings are held within 72 hours of Orders for Protective Custody being obtained. A judge decides if the child is in danger and needs to be removed from the home.
Adjudicatory Hearing — Adjudicatory hearings must be scheduled no later than 72 hours after a complaint has been filed. The hearing cannot be held any time later than 30 days after the complaint has been filed. If the judge decides the child is safe, then the child is able to return home. If the judge finds the child has been abused or neglected, however, another hearing will be scheduled.
Dispositional Hearing — Dispositional hearings must be held no later than 30 days after adjudicatory hearings. A judge may return the child to the home, but the judge can also place the child in protective supervision, commit the child to the temporary custody of a public children services agency, or give legal custody to a person other than the parent, such as a relative.
Permanency Hearing — Permanency hearings are held one year after the date the complaint was filed or the child was first placed into shelter care, whichever was earlier. At these hearings, the courts decide the child's permanent plans.
---
Ohio Resources for Child Protective Services
Child Protection | Hamilton County Job & Family Services — Hamilton County Children's Services operates the county's 24-hour child abuse hotline, (513) 241-KIDS (5437). The agency is responsible for taking reports of child abuse and neglect, investigating reports, and acting to protect child victims and children at risk of harm. On this website, you can learn more about Children's Services and download traditional and alternative response guides for working with the agency.
Hamilton County Job & Family Services
222 E Central Pkwy
Cincinnati, OH 45202
(513) 946-1000
Child Protective Services – Ohio – ODJFS Online | Office of Families and Children — Visit this website to learn more about the state agency that oversees child abuse and neglect prevention programs. You can find a county directory, a glossary of commonly-used acronyms, and rules and policies of the ODJFS. The website also contains information about Ohio's Central Registry on Child Abuse and Neglect.
Mayerson Center for Safe and Healthy Children | Cincinnati Children's Hospital Medical Center — The Mayerson Center for Safe and Healthy Children conducts "state-of-the-art diagnostic, treatment, prevention and training programs, as well as cutting-edge research in the field of child sexual abuse, child physical abuse, child neglect and parenting." Its child abuse team includes physicians, nurses, social workers, Cincinnati police and sheriff's officers, Department of Job and Family Services workers, and staff from the Hamilton County prosecutor's office. You can learn more about the program's research and education programs on this website.
---
Joslyn Law Firm Is a Cincinnati Child Protective Services (CPS) Lawyer Near You
If you have been notified that Hamilton County Children's Services is investigating you for alleged child abuse or neglect, it is in your best interest to immediately retain legal counsel. Do not say anything to any caseworkers or authorities until you have first contacted Joslyn Law Firm.
Cincinnati criminal defense attorney Brian Joslyn represents clients all over southwest Ohio, including Bridgetown, Anderson, Delhi, Harrison, Springfield, Sycamore, Forest Park, Springdale, Montgomery, and many nearby communities. You can receive an honest and thorough evaluation of your case when you call (513) 399-6289 or contact us online to schedule a free, confidential consultation.
We can help 24/7.
---