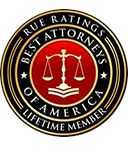 "Brian Joslyn is an Award-Winning Criminal and DUI Defense attorney who, along with his team at The Joslyn Law Firm, have handled hundreds of criminal cases and helping their clients obtain the best results possible."
Court Process in Domestic Violence Cases
For many people, being placed under arrest is a harrowing experience. When an alleged offender with no prior criminal record is taken into custody for an alleged crime of domestic violence, there is immediate concern and confusion about what will happen next.
Because of the multitude of civil issues that could be involved, every case is different. Most criminal cases, however, follow the same general path from the initial arrest to the situation's ultimate outcome.
Lawyer for Domestic Violence Defense in Cincinnati, OH
If you have been arrested for an alleged domestic violence-related crime in Hamilton County, you should not make any sort of statement to authorities without legal counsel. Joslyn Law Firm aggressively defends clients in Harrison, Springfield, Sycamore, Forest Park, Springdale, Montgomery, Bridgetown, Anderson, Delhi, and many other nearby communities in southwest Ohio.
Cincinnati criminal defense attorney Brian Joslyn has been ranked by the National Academy of Criminal Defense Attorneys as one of the 10 best criminal defense lawyers in Ohio as well as nominated by the National Trial Lawyers Association as a Top 100 Trial Lawyer in the country. Call to take advantage of a free, confidential consultation that will let our lawyers review your case and help you understand all of your legal options.
---
Ohio Domestic Violence Court Process Information Center
---
Domestic Violence Arraignments in Hamilton County
Also referred to as the initial appearance, the arraignment is where alleged offenders are informed of the criminal charges against them, informed of their right to legal counsel, and asked whether they understand the nature of the charges against them. The alleged offender will then be asked to enter a plea.
Even if an alleged offender believes that he or she is guilty of the criminal charges, it is almost always a far better option to plead not guilty at this stage of the proceedings. A not guilty plea can easily be changed later, but a guilty or nolo contendere (no contest) plea cannot be taken back without substantial hardships.
---
Setting Bail in Cincinnati Domestic Violence Cases
The judge at the arraignment will also likely be the one to set bail for the alleged offender. When the court sets bail, the amount will typically be based on the nature of the criminal offense, the perceived "flight risk" (chance of fleeing the state) of the alleged offender, and the presumed danger that an alleged offender places to the community (or, in a case of domestic violence, the alleged victim).
A judge can set one of three types of bonds in Ohio:
Personal Recognizance Bond — An alleged offender is released from custody upon signed agreement to comply with all future court appearances and abide by any specific court instructions. Alleged offenders are generally not required to pay any money in order to be released on a recognizance bond, but they may face substantial additional fines if they violate the terms of them. 
Standard Bail Bond — Also called a "10 Percent Bond," the standard bail bond requires an alleged offender to pay 10 percent of the bond amount to be paid in case in order to be released. For example, a person with a bond set at $25,000 needs to pay $2,500 to be released. At the conclusion of the case, the alleged offender would be refunded this deposit minus any fines, court costs, or administrative fees, but the amount will be forfeited if the alleged offender fails to appear in court.
Surety Bond — The full amount of the bond needs to be paid in cash or the alleged offender needs to hire a bondsman to post an insurance policy that guarantees to the court that the alleged offender will comply with all future court appearances. Most bondsmen typically charge people 10 percent of the full bond amount, but this fee is generally non-refundable.
---
Conditions of Bond for Domestic Violence in Ohio
When an alleged offender's bail is set, the judge may also place any one of numerous restrictions on the alleged offender as bond conditions. It is important to remember that these are court orders and violations are separate criminal offenses that can result in additional punishments.
Conditions may include GPS monitoring or being required to abstain from drugs and/or alcohol, but most alleged offenders in domestic violence are ordered not to have any contact with the alleged victim. It is critical to understand that so-called "no contact" provisions are strictly enforced, so alleged offenders should not answer phone calls from alleged victims or even respond to any invitations to meet.
---
Preliminary Hearing and Pre-Trial Motions in Cincinnati Domestic Violence Cases
At the preliminary hearing, the prosecutor will present evidence that demonstrates there is probable cause to believe the alleged offender committed the crime in question. A prosecutor does not need to prove guilt at this stage of the proceedings, only demonstrate that there is enough evidence to merit moving forward toward a trial.
The criminal defense attorney will generally make a motion for discovery in order to be provided the opportunity to review all of the evidence that the prosecutor has. After reviewing the evidence, there may be subsequent hearing dates at which a defense lawyer may submit additional motions challenging evidence or witnesses.
---
Domestic Violence Plea Bargaining in Hamilton County
In most every case, a prosecutor and a defense attorney will begin negotiating potential plea deals at the very first court appearance. These negotiations can be ongoing for the duration of the case, depending on various aspects of the case and how confident each side feels about the potential outcome at trial.
A prosecutor will generally offer some sort of reduction in offense grade or subsequent penalties in exchange for a guilty plea. The alleged offender always has the right to accept or deny these offers, and a lawyer is prohibited from making the decision on behalf of the client without the alleged offender's consent.
---
Trial and Appeals for Domestic Violence Cases in Cincinnati
Many cases are typically resolved through plea bargaining, but some cases do actually go to trial. The trial process may take several weeks or months, but a jury is presented the facts of the case and then renders a verdict.
If alleged offenders are found not guilty, then their cases are over and they are free. If, on the other hand, they are found guilty, alleged offenders may still be able to file appeals.
---
Ohio Resources for Court Process in Domestic Violence Cases
Hamilton County Courts — Common Pleas Courts in Hamilton County have jurisdiction in criminal felony cases while Municipal Courts handle misdemeanor criminal cases. Learn more about the courts at this website. You can also find answers to frequently asked questions.
Hamilton County Courthouse
1000 Main St
Cincinnati, OH 45202
(513) 946-5800
Police | City of Cincinnati — Learn more about the Cincinnati Police Department at this website. You can find various crime statistics, recent news, and answers to frequently asked questions. You can also learn about the department's police districts.
Cincinnati Police Department
310 Ezzard Charles Drive
Cincinnati, OH 45214
(513) 765-1212
---
Joslyn Law Firm | Cincinnati Domestic Violence Lawyer
Were you arrested for domestic violence in Hamilton County? It is in your best interest to contact Joslyn Law Firm as soon as possible.
Brian Joslyn is a criminal defense attorney in Cincinnati who represents clients in Green, Miami, Symmes, Norwood, Blue Ash, Reading, Harrison, Miamitown, Colerain, and several surrounding areas of southwestern Ohio. Our lawyers can provide a complete evaluation of your case as soon as you call (513) 399-6289 or submit an online contact form to schedule a free consultation.
---