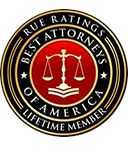 "Brian Joslyn is an Award-Winning Criminal and DUI Defense attorney who, along with his team at The Joslyn Law Firm, have handled hundreds of criminal cases and helping their clients obtain the best results possible."
Preventing Testimony in Domestic Violence Cases
For many people, the prospect of testifying under oath is a frightening and nerve-racking concept. In addition to questioning the accuracy of their own recollections, individuals can also have several additional complicating factors that may make them nervous about the consequences of providing testimony.
Fortunately, people can refuse to testify in certain situations. Alleged offenders facing domestic violence charges should also understand that certain types of testimony may even be prohibited.
Lawyer for Domestic Violence Testimony in Cincinnati, OH
Are you concerned about the prospect of your arrest for domestic violence in Hamilton County going to trial? You will want to make sure that you contact Joslyn Law Firm for help possibly getting the criminal charges reduced or dismissed.
Brian Joslyn is an experienced criminal defense attorney in Cincinnati who represents clients all over southwest Ohio, including Miami, Symmes, Norwood, Blue Ash, Reading, Harrison, Miamitown, Colerain, Green, and many other nearby communities. You can receive a free, confidential consultation that will let our lawyers provide a complete evaluation of your case as soon as you call today.
---
Overview of Preventing Testimony in Ohio Domestic Violence Cases
---
Self-Incrimination Protection in Hamilton County Domestic Violence Cases
Under the Fifth Amendment to the United States Constitution, no person can be compelled in any criminal case to be a witness against him or herself. When a person utilizes this privilege, it is often referred to as "pleading the Fifth."
Alleged victims in domestic violence cases may have a vested interest in refusing to testify, as domestic violence cases frequently involve a mutual series of escalating incidents. If an alleged victim admits under oath to committing an unlawful act that he or she was not charged with as part of the incident of domestic violence, that person could end up facing criminal charges.
Similarly, alleged offenders may also want to plead the Fifth when an honest answer could result in additional criminal charges or would otherwise hurt their defense.
---
Spousal Privilege in Cincinnati Domestic Violence Cases
In the 1849 case of Cook v. Grange, the Ohio Supreme Court forbade the testimony of a divorced wife, ruling that she was not a competent witness. The Court wrote, "To secure domestic tranquility, it is necessary that the highest confidence should exist between husband and wife; that all communications made in confidence, by the disclosure of which either party may be affected, should be considered as under the most sacred seal of secrecy."
Ohio Revised Code § 2317.02(D) states that a husband or wife does not need to testify "concerning any communication made by one to the other, or an act done by either in the presence of the other, during coverture, unless the communication was made, or act done, in the known presence or hearing of a third person competent to be a witness; and such rule is the same if the marital relation has ceased to exist."
As Cook v. Grange established, spousal privilege exists even when a marriage has been dissolved. In many cases, the communications made within the privacy of a marriage are prohibited from being used against one of the spouses in court.
---
Competency Issues in Ohio Domestic Violence Cases
Whereas spousal privilege can protect certain specific things that were shared in private between two spouses, spousal competency addresses a larger issue of whether a spouse is deemed competent to testify. Whereas Ohio Revised Code § 2945.42 was once interpreted as meaning that neither party to a marriage was competent to testify for or against a spouse, competency issues largely arise when children are sought to testify in domestic violence cases.
Under Ohio Rules of Evidence Rule 601, children under 10 years of age "who appear incapable of receiving just impressions of the facts and transactions respecting which they are examined, or of relating them truly" will be ruled incompetent to testify.
---
Ohio Domestic Violence Testimony Resources
Ohio Rules of Evidence | Supreme Court — You can find the full text of Ohio's Rules of Evidence on this website. Rule 601, specifically, applies to the General Rule of Competency. The beginning of this rule states that every person is competent to be a witness except:
(A) Those of unsound mind, and children under ten years of age, who appear incapable of receiving just impressions of the facts and transactions respecting which they are examined, or of relating them truly.

(B) A spouse testifying against the other spouse charged with a crime except when
either of the following applies:

(1) a crime against the testifying spouse or a child of either spouse is charged;

(2) the testifying spouse elects to testify.
In re Joshua C., 2003-Ohio-6752 — Joshua C. was a 13-year-old who was charged with delinquency on the basis of rape after he allegedly placed his mouth on the vagina of his four-year-old cousin. The Erie County Court of Common Pleas, Juvenile Division, determined that she was competent to testify and the court determined that all the elements of rape had been proven beyond a reasonable doubt and found Joshua to be delinquent on that basis. The Ohio Sixth District Court of Appeals reversed this judgment and admonished the Erie County Court of Common Pleas, Juvenile Division, to "either improve its recording system or to provide for a live court reporter in order to protect due process rights to review, writing:
"Competency under Evid.R. 601(A) contemplates several characteristics. See State v. Frazier (1991), 61 Ohio St.3d 247, 251, certiorari denied (1992), 503 U.S. 941. Those characteristics can be broken down into three elements. First, the individual must have the ability to receive accurate impressions of fact. Second, the individual must be able to accurately recollect those impressions. Third, the individual must be able to relate those impressions truthfully. See, generally, 2 Wigmore on Evidence (Chadbourn Rev.1979) 712-713, Section 506." State v. Said (1994), 71 Ohio St.3d 473 , 476.

In determining whether a child under ten is competent to testify, "the trial court must take into consideration: (1) the child's ability to receive accurate impressions of fact or observe acts about which she will testify; (2) the child's ability to recollect those impressions or observations; (3) the child's ability to communicate what was observed; (4) the child's understanding of truth and falsity; and (5) the child's appreciation of her responsibility to be truthful." Frazier, supra at 251. The determination of competency is within the trial judge's sound discretion. Id. Absent a showing of an abuse of discretion, a reviewing court will not disturb the trial court's ruling. State v. Hogan (June 8, 1995), Cuyahoga App. No. 66956.
---
Joslyn Law Firm | Cincinnati Domestic Violence Testimony Lawyer
If you were arrested for a crime of domestic violence in Hamilton County, it is in your best interest to make sure that you have legal representation dedicated to protecting your rights. Joslyn Law Firm can fight to achieve the most favorable outcome and possibly get criminal charges reduced or dismissed.
Cincinnati criminal defense attorney Brian Joslyn defends people in Springfield, Sycamore, Forest Park, Springdale, Montgomery, Bridgetown, Anderson, Delhi, Harrison, and surrounding areas of southwest Ohio. Call (513) 399-6289 or complete an online contact form today to schedule a free consultation that will let our lawyers review your case and discuss your legal options.
---