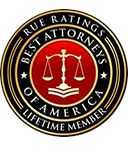 "Brian Joslyn is an Award-Winning Criminal and DUI Defense attorney who, along with his team at The Joslyn Law Firm, have handled hundreds of criminal cases and helping their clients obtain the best results possible."
Domestic Violence Warrants in Cincinnati, OH
When police respond to a call relating to domestic violence in the Cincinnati area, evidence of a crime creates probable cause that can lead to the alleged offender's arrest. While probable cause allows officers to place alleged offenders under arrest at the scene of the offense, in some cases, authorities arrive after an alleged offender has already left the scene.
After a warrant has been issued for a person's arrest, the record of that warrant becomes visible to authorities all over Ohio—and possibly by police in neighboring states if an alleged offender encounters police in Kentucky.
If an individual knows that a family or household member filed a police report relating to an incident of domestic violence, it is in that person's best interest to immediately attempt to resolve the situation rather than trying to run from it and likely make problems even worse.
Regardless if this is a first-time offense or not, you are entitled to respect and you have the right to an attorney. The members of our legal team have experience in defense and prosecution, so they have a wealth of information about criminal law that can assist you and others served with domestic violence warrants.
Joslyn Law Firm is continuously titled one of Ohio's top criminal defense firms and has taken on over 20,000 cases. Our firm's lead attorney, Brian Joslyn, has been honored with memberships and awards to various local and national organizations.
Nominations as a "Top Trial Lawyer in America" and "One of the Best Lawyers in America," showcases our commitment to criminal defense and customer satisfaction. Additionally, our track record with getting domestic violence and other criminal charges dismissed or reduced is hard proof that we know how to represent you during this time.
Brian and the rest of our team members are devoted to justice and to defending those accused of crimes, and your case is important to us. We know what to expect from a domestic violence case and will fight for the best possible results for you.
Lawyer for Domestic Violence Warrants in Cincinnati, OH
Do you know or think that a warrant has been issued for your arrest because of an alleged crime of domestic violence in Cincinnati? You can contact Joslyn Law Firm as soon as possible for help with your situation.
While facing a warrant for your arrest can be intimidating, you do not have to deal with this alone. Our firm is able to review your case and examine the circumstances around this warrant and fight against any criminal charges.
Domestic violence is an act or threat of violence committed by a person against a family member. Domestic violence charges can severely damage one's life, and our team will work to find a favorable solution. Our firm also strives for compassionate treatment for all of our clients; you do not have to worry about being judged or dealing with a legal team that does not care about your case.
Brian Joslyn is a criminal defense attorney in Cincinnati who defends clients throughout southwest Ohio, including Forest Park, Miami, Montgomery, Reading, Springfield, Symmes, Blue Ash, Colerain, and several other nearby communities. Call today for a free consultation that will let the team at Joslyn Law Firm review your case and answer all your legal questions. Get started when you dial (513) 399-6289.
Information Center for Violence Warrants in Ohio 
---
When Domestic Violence Warrants are Filed in Hamilton County
City of Cincinnati Police Department Procedure 12.412 outlines the steps that every officer is expected to take when handling a case of domestic violence. The Police Department Procedure Manual cautions officers to, "Give consideration to the possibility the offender may return to the scene while the officer is present or immediately thereafter."
When facts and circumstances would cause a reasonable person to believe an offense has been committed by the alleged offender, a police officer has probable cause to arrest the alleged offender. The Procedure Manual states:
If a victim completes the Form 311VS, Victim's Statement, and alleges facts and circumstances meeting the elements of Ohio Revised Code (ORC) Section 2919.25, Domestic Violence, probable cause exists to arrest or issue warrants for the suspect.
Completion of a Form 311VS alone is not sufficient to sign a warrant. The officer must review the victim's statement and determine if it alleges facts and circumstances meeting the elements of Domestic Violence. The victim can complete and sign the Form 311VS, or the investigating officer can write the form and have the victim review it for accuracy and sign.
Department policy regarding domestic violence is the immediate arrest of the offender when probable cause exists. The formal arrest/court process is the most appropriate method of resolution.
Authorities will generally conduct a thorough investigation of the scene of the alleged offense. When an alleged offender has left the scene, officers are advised to "make every attempt to obtain positive identification and immediately broadcast a description, possible destination, means and direction of travel."
When probable cause exists and an alleged offender is no longer at the alleged crime scene, officers will promptly sign or file a warrant for the alleged offender's arrest.
---
What You Should Do When You Have a Domestic Violence Warrant in Cincinnati
When a person has an outstanding arrest warrant on a domestic violence charge, there is little point in attempting to hide from authorities. Police departments across Ohio share information, and warrants do not go away until they have been resolved in court, so an alleged offender in Cincinnati can still be taken into custody if he or she encounters authorities in Butler County, Clermont County, or possibly even Northern Kentucky.
It can be far less stressful for alleged offenders to simply turn themselves in to answer the criminal charges and minimize the amount of time that has to be spent in a jail cell. A Cincinnati criminal defense attorney with experience handling domestic violence warrants will know the time and location that will allow for the quickest and most favorable resolution to an open warrant case.
A lawyer can arrange a meeting so the police officer, prosecutor, and judge can be present and hold a bond hearing. By turning themselves in, alleged offenders are usually granted relatively quick releases and do not have to spend more than a few hours in jail for basic processing.
Answering criminal charges can be extremely daunting, but it is far preferable to spending a life on the run and simply hoping to never again have any kind of run-in with police. Again, warrants never expire, and alleged offenders who are arrested because of open warrants have a much more difficult journey in the courtroom than those who turn themselves in.
---
Ohio Resources for Domestic Violence Warrants
If you have a warrant in Ohio, you can surrender yourself to a Fugitive Safe Surrender location. These sites can offer resources and assistance for those with warrants who turn themselves in. Although the locations are typically for those with warrants issued by the county where the FSS site is located, anyone can go to one of these sites.
One way to find out if you an active warrant in Hamilton County is to search court records on this website. You can enter your name to search common pleas civil, appellate, and domestic relations cases. You can also perform a comprehensive search that displays results from all courts of jurisdiction.
Hamilton County Clerk of Courts
Hamilton County Courthouse
1000 Main St
Cincinnati, OH 45202
(513) 946-5656
View the full text of City of Cincinnati Police Department Procedure 12.412. Learn about key definitions as well as the purpose, policy, and information about domestic violence incidents. The procedure covers the initial response, on-scene investigation, and case reporting and preparation.
This "Practical Guide to Competence for Judges & Magistrates" is prepared by the Family Violence Prevention Center at the Ohio Office of Criminal Justice Services. You can gain some useful insights into procedures and recommended best practices that might affect your case. The book talks about law enforcement notification, for instance, and the grounds upon which police can arrest you without a warrant.
This chapter of the Ohio Revised Code (RC) gives you access to the letter of the law in Ohio, with regard to arrests, citations, and disposition alternatives. The code explains when authorities have the right to arrest without a warrant, as well as your rights in these situations. It also explains the process for the issuance of a warrant.
---
Domestic Violence Warrants News in Ohio
December 22, 2020
"Domestic violence suspect leads Ravenna police on a chase"
Tyler Fish was wanted for domestic violence and felonious assault. When law enforcement officers spotted him driving, they tried to pull him over to arrest him for the active warrants. A chase ensued, and Ohio State Highway Patrol troopers laid out Stop Sticks on State Route 5 to stop Fish. He ran over the devices and ran off the road and tried to escape on foot, but he was caught. The man was arrested and faces charges for driving under suspension and failure to comply.
December 11, 2020
With alarming increases in the number of COVID-19-infected inmates, Cuyahoga County Jail has embarked on releasing a large number of inmates. The county reported that 75 percent of the jailed population had outstanding warrants or were arrested for violent or sexual offenses. The county sheriff's department ordered that individuals incarcerated for municipal misdemeanors be released. However, people charged with domestic violence offenses will not be released.
December 4, 2020
An employee at an apartment complex had an active arrest warrant that charged him with violation of a protection order, as well as domestic violence, at a unit in the apartment complex. The man, Tejuan Hammons, was shot to death at the apartment. The domestic charges had been filed shortly prior to the shooting, and the man showed up at unit where the woman who sought the protection order against Hammons resided. At some point during the physical altercation, an 18-year-old male shot Hammons and killed him. 
November 5, 2020
"Miami Valley Crime Stoppers searching for three wanted men"
The Dayton Police Department (DPD) issued a release announcing their search for three men with active warrants. One individual had active felony warrants. Shawn Mclean was wanted on assault and felony domestic violence. Mclean is on parole with active warrants. The article states the man's address in Dayton, Ohio. A third man, Todd Clark has an active warrant for domestic violence and felonious assault. The Dayton Police Department encourages readers who know the whereabouts of any of these men to call DPD or local police.
---
Frequently Asked Questions About Domestic Violence Warrants in Cincinnati
Q: How Long Does a Domestic Violence Warrant Last in Ohio?
A: Domestic violence arrest warrants in Ohio do not expire. On top of this, it does you no good to flee to another jurisdiction. Even law enforcement in other states will have access to your warrant information. If you try to evade your warrant, when you do get caught and brought into custody, the fact that you behaved in this manner will not sit well at trial. Furthermore, if you apply for a job at a company that conducts background checks, any active warrants will show up.
Q: What Should I Do if I Have a Domestic Violence Warrant in Ohio?
A: If you discover you have a domestic violence warrant in Ohio, the best thing you can do is try to resolve the matter. If you try to run from the warrant, you will be running for a long time, as warrants do not expire. Because your warrant record is shared with law enforcement statewide and in neighboring states, you run the risk of eventually being caught and brought into custody, and your attempt to evade the warrant will likely not bode well for your case.
Q: When Do Police Officers Issue Arrest Warrants in Domestic Violence Cases?
A: If you have been accused of domestic violence, and you are not at the scene of the alleged offense when police officers arrive, law enforcement can file a warrant for your arrest. They will broadcast details regarding your physical description, how you are travelling, where you might be headed, and how you are most likely trying to get there.
Q: How Do Alleged Domestic Violence Offenders Go About Turning Themselves In?
A: You can turn yourself in at a Fugitive Safe Surrender location if your warrant is from the same county as the surrender site. You can turn yourself in at any Safe Surrender site, but you risk being taken into custody without the proper county officials being present. Consider talking to a domestic violence lawyer who can arrange a meeting with law enforcement, the prosecutor, and judge in a bond hearing.
Q: Where Can I Learn More About Warrant Procedures in Cincinnati?
A: You can learn more about warrant procedures in Cincinnati by visiting the Ohio Attorney General's website on Fugitive Safe Surrender. This site answers frequently asked questions about Ohio's initiative to facilitate the voluntary surrender of individuals with misdemeanor warrants. You can also read the detailed law text of the Ohio Revised Code Title 29, Chapter 2935.01, which pertains to arrest, citation, and disposition alternatives.
---
Cincinnati Domestic Violence Warrants Lawyer
If you believe or know that a warrant has been issued for your arrest following an alleged incident of domestic violence, it is in your best interest to deal with the situation as soon as possible rather than attempting to run from it. Joslyn Law Firm can help you achieve the most favorable outcome with the fewest possible penalties.
Cincinnati criminal defense attorney Brian Joslyn defends clients in Delhi, Green, Harrison, Miamitown, Norwood, Springdale, Sycamore, Anderson, Bridgetown, and many surrounding areas in southwest Ohio. Our lawyers can provide an honest and thorough evaluation of your case as soon as you call (513) 399-6289 or fill out an online contact form to take advantage of a free, confidential consultation.