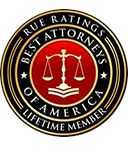 "Brian Joslyn is an Award-Winning Criminal and DUI Defense attorney who, along with his team at The Joslyn Law Firm, have handled hundreds of criminal cases and helping their clients obtain the best results possible."
Collateral Consequences of a Domestic Violence Conviction
When people are arrested for domestic violence offenses in Ohio, their focus is understandably more on the possible immediate penalties such as incarceration and fines. Convictions, however, can carry long-term consequences that can be just as—or perhaps even more damaging than jail or prison sentences.
For this reason, it is critical for all alleged offenders facing domestic violence charges to understand that pleading guilty to reduced charges may still not be in their best interests. Every person needs to know the types of effects that any kind of domestic violence conviction can have on their ability to obtain employment, housing, or many other basic needs.
Lawyer for Domestic Violence Consequences in Cincinnati, OH
If you were arrested for a crime of domestic violence in Hamilton County, you should not say anything to authorities without legal counsel. Joslyn Law Firm aggressively defends clients throughout southwest Ohio, including Springdale, Sycamore, Anderson, Bridgetown, Delhi, Green, Harrison, Miamitown, Norwood, and many other nearby communities.
Cincinnati criminal defense attorney Brian Joslyn has been ranked one of the 10 best criminal defense lawyers in Ohio by the National Academy of Criminal Defense Attorneys and nominated as a Top 100 Trial Lawyer in the country by the National Trial Lawyers Association. You can have our lawyers review your case and discuss all of your legal options as soon as you call to take advantage of a free, confidential consultation.
---
Ohio Domestic Violence Conviction Collateral Consequences Information Center
---
Types of Consequences to Domestic Violence Convictions in Hamilton County
When a person is convicted of a domestic violence offense in Ohio, he or she could lose several significant rights and face many undue hardships. Some possible effects of a conviction may include, but are not necessarily limited to:
Loss of job or inability to obtain job — Domestic violence convictions will appear on routine background checks. Employers reserve the right to decline extending job offers to candidates with criminal records, and certain violent convictions may also lead to people in certain industries losing their jobs.
Loss of housing or inability to obtain housing— People convicted of domestic violence crimes can be ineligible for public housing assistance or welfare. Such convictions can also create additional difficulties for people seeking to rent or buy homes.
Loss of child custody —When an alleged offender is in the process of a divorce or a spouse files for divorce after criminal charges have been filed, it is highly likely that the alleged offender would lose of custody of his or her children.
Loss of professional licenses — Many licensing boards or agencies will revoke the professional licenses of individuals who have been convicted of any type of crime. Similarly, applicants for such licenses often have to submit to background checks and can be denied licenses on the basis of domestic violence convictions.
Loss of immigration and/or naturalization status — Under Title 8 U.S. Code § 1227(a)(2)(E), any alien who violates a protection order or is convicted of a crime of domestic violence, a crime of stalking, or a crime of child abuse, child neglect, or child abandonment is deportable.
Prohibited from owning firearms — Federal law prohibits all people convicted of domestic violence offenses—even misdemeanors—from owning firearms. Convicted offenders may also be unable to obtain hunting licenses.
The conviction may be permanent — People convicted of domestic violence offenses in Ohio may be unable to seal or expunge the charges from their criminal records. Fourth-degree misdemeanor domestic violence crimes can be expunged, but any misdemeanor of the first degree domestic violence offense cannot. Essentially, any conviction for a crime graded as a first-degree misdemeanor or higher will be permanently reflected on a person's criminal record.
---
Ways to Avoid Domestic Violence Convictions in Cincinnati
In some domestic violence cases, an alleged offender may receive a deferred or suspended sentence. In such cases, alleged offenders who successfully complete the terms and conditions of their probationary periods will have their cases dismissed. Their arrests and those dismissals, however, will still be on those people's criminal records.
The best way to make sure that a domestic violence crime does not appear on your criminal record is simply to fight the criminal charges. An attorney will be able to determine the most effective ways to challenge evidence and convince the prosecutor to drop the charges or, if necessary, take the case to trial.
---
Ohio Resources for Domestic Violence Conviction Consequences
How to Get a Job With a Domestic Violence Conviction — Read an article that discusses the challenges a person with a domestic violence conviction can face when seeking employment. The article offers a few recommendations to help convicted offenders overcome the obstacles created by criminal records. You can find additional local help with finding employment by visiting the Ohio section of the National HIRE Network website.
Voisine v. United States — Stephen Voisine was twice convicted of being in in violation of §207 of the Maine Criminal Code, which makes it a misdemeanor to "intentionally, knowingly or recklessly cause bodily injury" to another person. In its 2014 decision in United States v. Castleman, the United States Supreme Court held that a knowing or intentional assault qualifies as such a crime, but left open whether the same was true of a reckless assault. In a 6-2 decision in Voisine, the Supreme Court held that a reckless domestic assault qualifies as a misdemeanor crime of domestic violence that prohibits firearms possession by convicted felons under Title 18 U.S. Code § 922(g)(9).
---
Joslyn Law Firm | Cincinnati Domestic Violence Conviction Consequences Lawyer
Were you recently arrested in Hamilton County for an alleged domestic violence offense? Contact Joslyn Law Firm as soon as possible for help possibly getting the criminal charges reduced or dismissed.
Brian Joslyn is an experienced criminal defense attorney in Cincinnati who represents clients in Symmes, Blue Ash, Colerain, Forest Park, Miami, Montgomery, Reading, Springfield, and surrounding areas of southwest Ohio. Call (513) 399-6289 or fill out an online contact form to schedule a free consultation that will allow our lawyers to provide an honest and thorough evaluation of your case.
---