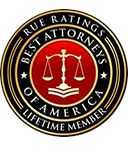 "Brian Joslyn is an Award-Winning Criminal and DUI Defense attorney who, along with his team at The Joslyn Law Firm, have handled hundreds of criminal cases and helping their clients obtain the best results possible."
Evidence in Domestic Violence Cases
A multitude of factors make domestic violence charges some of the most difficult cases for prosecutors to handle. In addition to the occasional unwillingness of alleged victims to assist in prosecution, many cases also involve an inherent lack of evidence to support the criminal charges.
All too frequently, criminal charges for domestic violence offenses rely almost entirely on the statements of alleged victims. In the end, cases can frequently rely on two different versions of an alleged incident from the parties involved.
Lawyer for Domestic Violence Evidence in Cincinnati, OH
If you believe that you are under investigation or you were already arrested for any kind of crime of domestic violence in Hamilton County, it is in your best interest to immediately retain legal counsel before you say anything to authorities. Joslyn Law Firm aggressively defends clients in Reading, Springfield, Symmes, Blue Ash, Colerain, Forest Park, Miami, Montgomery, and many surrounding areas in southwest Ohio.
Cincinnati criminal defense attorney Brian Joslyn has been ranked one of the 10 best criminal defense lawyers in Ohio by the National Academy of Criminal Defense Attorneys in addition to being nominated as a Top 100 Trial Lawyer in the country by the National Trial Lawyers Association. You can have our lawyers provide an honest and thorough evaluation of your case as soon as you call to take advantage of a free, confidential consultation.
---
Ohio Domestic Violence Evidence Information Center
---
Types of Physical Evidence in Hamilton County Domestic Violence Cases
Many alleged victims of domestic violence end up reconciling with alleged offenders and, thus, no longer wish to press criminal charges. Prosecutors, however, remain the only party with the power to drop these charges.
In order for a prosecutor to be able to pursue criminal charges against an alleged offender in a domestic violence case without the assistance of the alleged victim, the state will probably need some type of tangible physical evidence that a crime was committed. A few of the most common forms of physical evidence include, but are not limited to:
Alleged offender's criminal record of previous arrests and/or convictions relating to domestic violence;
Medical records for injuries;
Photographs of alleged victim's injuries;
Recording of original 911 phone call;
Text messages, emails, or social media messages between the alleged offender and the alleged victim;
Any other physical evidence related to the incident (weapons, torn clothing, broken items, etc.).
Prosecutors can also submit written statements made by alleged victims, but such statements cannot be entered into evidence if an alleged victim is unwilling to testify that he or she made the statement or that the statement is accurate.
---
Witnesses in Cincinnati Domestic Violence Cases
In most every domestic violence case, the main witness accounts are those of the alleged offenders and the alleged victims. In some cases, additional friends or family members may have witnessed the alleged incident.
When alleged victims are supportive of a prosecutor's efforts to seek a conviction, the alleged offender and alleged victim's accounts can be wildly different. Any additional witness accounts can lend very valuable credence to one side's account.
The problem with testimony from other witnesses is that most people who were not directly involved in a domestic violence crime are generally biased toward one side or another. As a result, these individuals are far more likely to make statements that will help result in a conviction or acquittal, depending on their views.
It is critical for an alleged offender to have an experienced criminal defense attorney who can identify any perceived biases and expose exaggerated or possibly even manufactured recollections of the incident in question.
---
Ohio Domestic Violence Evidence Resources
Factors Related to Domestic Violence Court Dispositions in a Large Urban Area: The Role of Victim/Witness Reluctance and Other Variables, Final Report — View a study that examined "factors that influence court officials' (judges', prosecutors', and defense attorneys') decision-making in domestic violence cases, and factors that influence victim/witness reluctance in bringing batterers to successful adjudication (convictions). The research was conducted by researchers at the University of Cincinnati and the Cincinnati Domestic Violence Coordinating Committee (DVCC). The study used transcripts from 140 misdemeanor domestic violence cases in Hamilton County's domestic violence caseload.
Ohio Family Violence Prevention Project: Regional Data Training — The HealthPath Foundation of Ohio and the Ohio Colleges of Medicine Government Resource Center put together this document that examines the types of data used in domestic violence (referred to here as family violence) studies. The document discusses types of data available as well as how and why it should be used. You can also learn about common discrepancies in statistics that can lead to misleading conclusions.
---
Joslyn Law Firm | Cincinnati Domestic Violence Evidence Defense Lawyer
Were you arrested for an alleged crime of domestic violence in Hamilton County? Do not make any kind of statement to authorities until you have first contacted Joslyn Law Firm.
Brian Joslyn is a criminal defense attorney in Cincinnati who represents clients all over southwest Ohio, including Miamitown, Norwood, Springdale, Sycamore, Anderson, Bridgetown, Delhi, Green, Harrison, and several other nearby communities. Call (513) 399-6289 or fill out an online contact form today to schedule a free consultation that will let our lawyers review your case.
---