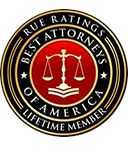 "Brian Joslyn is an Award-Winning Criminal and DUI Defense attorney who, along with his team at The Joslyn Law Firm, have handled hundreds of criminal cases and helping their clients obtain the best results possible."
Filing Domestic Violence Charges
Not every incident of alleged domestic violence results in criminal charges for alleged offenders. Sometimes police do not file charges, and other times prosecutors do not believe that the cases are strong enough to guarantee convictions.
When do authorities decide to file criminal charges? Police officers in the Cincinnati area have a specific protocol that they follow when investigating crimes of domestic violence, and multiple factors will determine whether or not authorities ultimately decide to file charges.
Lawyer for Domestic Violence Charge Filings in Cincinnati, OH
If you were investigated or arrested for allegedly committing a crime of domestic violence in Hamilton County, it is in your best interest to seek legal representation as soon as possible. Joslyn Law Firm can fight to possibly get criminal charges reduced or completely dismissed.
Cincinnati criminal defense attorney Brian Joslyn represents clients in Miami, Montgomery, Reading, Springfield, Symmes, Blue Ash, Colerain, Forest Park, and many surrounding areas of southwest Ohio. You can have our lawyers review your case and answer all of your legal questions during a free, confidential consultation as soon as you call today.
---
Ohio Filing of Domestic Violence Charges Information Center
---
How Domestic Violence Charges Get Filed in Hamilton County
The Cincinnati Police Department Procedure Manual is an official guide that outlines the ways officers are expected to perform many routine operations. City of Cincinnati Police Department Procedure 12.412 outlines the policy and procedures relating to incidents of domestic violence.
Under this procedure, police officers upon arriving to the scene are expected to separate the involved parties and make every attempt to identify the primary physical aggressor. If probable cause is established, the preferred course of action is to identify and arrest the primary physical aggressor. Probable cause is established by:
The victim, or the parent of a child victim, completes a written allegation (Form 311VS) describing the elements of domestic violence (police officers will not demand or otherwise require the victim's specific consent or a signed allegation as a prerequisite to arresting and/or charging an alleged offender with domestic violence if probable cause exists);
In the absence of a written statement, any personal knowledge and observation of the incident by the officer; and/or
Any other information, including but not limited to, reasonable trustworthy information given by the alleged victim or any witness to the incident, describing the elements of domestic violence.
If an alleged offender has left the scene of a domestic violence crime, officers will sign or file a warrant for the alleged offender's arrest and request that the alleged victim complete the Form 311VS. The investigating officer will respond to the Clerk's Office to sign or file the appropriate criminal charges.
If a felony assault appears to be the result of self-defense, police officers will include all pertinent information in their case reports and follow-up investigators will determine if charges should be filed. Otherwise, arresting officers sign all felony charges arising from domestic violence offenses. Authorities will:
Charge as a felony if there is a prior conviction for domestic violence and the current offense does not constitute a threat (Officers must confirm the conviction with the Clerk's Office before signing the felony charge);
Charge as a misdemeanor if a prior domestic violence conviction exists and the current domestic violence offense is a threat against the alleged victim;
Sign a Temporary Protection Order (TPO) request when filing domestic violence, felonious assault, or aggravated assault charges; and/or
Complete a detailed Form 527A, Case and Bond Information Sheet, to assist the judge in setting bond and TPO terms.
---
Impact of Victim Non-Cooperation on Domestic Violence Charges in Cincinnati
After police have made an arrest and filed charges, it is not uncommon for alleged victims to express a desire to "drop the charges." Alleged offenders frequently interpret this as meaning there will be no criminal case to worry about, but that belief is a serious mistake.
Whether it is because they have had time to cool down and, thus, reconcile with alleged offenders, the alleged victims in these cases frequently change their mind about the desire to press charges. The actual power to pursue criminal charges, however, lies entirely with the prosecutor who is handling the case after police have filed them.
When an alleged victim refuses to cooperate with the prosecution, it can create a number of problems for the prosecutors. Still, prosecutors will generally proceed with their cases even when alleged victims have asked for the charges to be dropped.
If a victim refuses to appear in court, the judge may issue a subpoena to have him or her appear and any refusal to respond to the subpoena can lead to the alleged victim being charged with contempt. If the alleged victim is unwilling to testify in court, a prosecutor may have to dismiss the charges because any statement the alleged victim originally provided to police cannot be submitted into evidence without the alleged victim being in court to authenticate that he or she made the statement.
---
Ohio Resources for Filing Domestic Violence Charges
Ohio Attorney General Mike DeWine | Apply for Victims Compensation — Victims of violent crimes such as domestic violence may be eligible for financial compensation. Visit this website to learn more about the requirements and download an application. The filing of criminal charges can play an important role in determining whether victims are eligible for financial assistance.
Charges won't be filed against Aroldis Chapman for alleged domestic violence incident — Cincinnati Reds closer Aroldis Chapman was accused of choking his girlfriend and firing eight gunshots in an alleged domestic violence incident in October 2015. Police ultimately declined to file any charges against Chapman though, citing conflicting stories, insufficient evidence, and a lack of cooperating witnesses. Even though Chapman did not face criminal charges, Major League Baseball still suspended the pitcher for 30 games.
---
Joslyn Law Firm | Cincinnati Domestic Violence Charges Lawyer
Were you arrested for any kind of domestic violence offense in Hamilton County? Do not say anything to authorities until you have first contacted Joslyn Law Firm.
Brian Joslyn is an experienced criminal defense attorney in Cincinnati who aggressively defends clients throughout southwest Ohio, including Green, Harrison, Miamitown, Norwood, Springdale, Sycamore, Anderson, Bridgetown, Delhi, and several other nearby communities. Call (513) 399-6289 or submit an online contact form right now to schedule a free consultation that will let our lawyers provide an honest and thorough evaluation of your case.
---