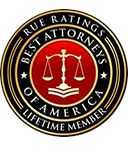 "Brian Joslyn is an Award-Winning Criminal and DUI Defense attorney who, along with his team at The Joslyn Law Firm, have handled hundreds of criminal cases and helping their clients obtain the best results possible."
Defenses to Domestic Violence Charges in Cincinnati
When a person is arrested for a crime of domestic violence in Ohio, the prosecutor will still need to prove the alleged offender's guilt beyond a reasonable doubt to secure a conviction. Many domestic violence cases involve disputes between spouses or other family members in which alleged victims and alleged offenders have two different versions of how actions unfolded.
In such cases, judges and juries often tend to err on the side of caution and take whatever steps are necessary to protect the alleged victims. To avoid the serious penalties that can accompany a conviction for domestic violence, an alleged offender will need to present a strong, thoughtful defense that exposes flaws in the prosecutor's case or at least presents reasons for the average person to have a reasonable doubt about the credibility of the charges.
Brian Joslyn is one such defender. As the head attorney of Joslyn Law Firm, Brian knows the value of a defense team dedicated to justice, respect, and rights. Although you can try to defend yourself in court, it can be very difficult to comprehend the law and all its nuances and gather and digest the information necessary for creating a defense strategy. Our lawyers are here to help.
With Brian's awards from organizations like the American Association for Justice, the National Academy of Criminal Defense Attorneys, and the National Trial Lawyers, you can rest easy knowing that your case is in good hands. With Joslyn Law Firm's devotion to client satisfaction and upholding your rights, you don't have to look further for a criminal defense lawyer.
Lawyer for Defenses to Domestic Violence Charges in Cincinnati, OH
According to a 2018 report from the office of the Ohio Attorney General, there were over 1,700 people charged with a domestic violence incident in Hamilton County. Although not everyone may be convicted of these crimes, it is still a possibility for many.
If you were arrested for domestic violence in Hamilton County, you have the right to retain legal counsel capable of presenting your defense in court to help you achieve a favorable outcome to your case. Joslyn Law Firm can investigate the circumstances surrounding your arrest and fight to possibly get the criminal charges reduced or dismissed.
There are many moving parts to defending a client against domestic violence charges, but our team knows how to compile evidence, research facts, and form arguments that create reasonable doubt. Our team has lawyers that have been on prosecution and defense teams, so we are familiar with the system and can use our knowledge to your benefit.
When it comes to defending domestic violence charges, we will look to see if there is sufficient evidence or look for instances in which the gathering of evidence violated your rights. We can review the case to show that you could have been defending yourself or that there was a lack of intent, or we can see if the allegations from the prosecution are false.
Cincinnati criminal defense attorney Brian Joslyn represents clients in Anderson, Delhi, Harrison, Springfield, Sycamore, Forest Park, Springdale, Montgomery, Bridgetown, and surrounding areas of southwest Ohio. Call right now to take advantage of a free initial consultation that will allow our legal team to review your case and discuss all of your legal options at (513) 399-6289.
Ohio Domestic Violence Defenses Information Center
---
False Allegation of Domestic Violence
Unfortunately, some accusations of domestic violence in Ohio are exaggerated or fabricated by alleged victims. In some cases, alleged victims often attempt to have alleged offenders convicted to gain leverage in contested child custody or divorce proceedings.
A criminal defense attorney can review the alleged victim's testimony and call out any inconsistencies in their story. When we can show issues with the accuracy of an alleged victim's story, a court finds it incredibly difficult to convict an alleged offender of any crime.
---
Self Defense or Defense of Others
Under Ohio Revised Code § 2901.05, if an alleged victim was the party that initiated an altercation, the other people involved in the incident are legally allowed to take whatever actions were necessary to protect themselves. Alleged offenders who have been arrested for domestic violence may be able to get criminal charges thrown out if their lawyers can demonstrate that any injuries they caused resulted only from having to protect themselves or other people (such as children).
---
Lack of Intent Defense to Cincinnati Domestic Violence Charges
For an alleged offender to be convicted of domestic violence under Ohio Revised Code § 2919.25, the prosecution will need to prove that the alleged offender knowingly caused or attempted to cause physical harm to a family or household member or, by threat of force, knowingly caused a family or household member to believe that the alleged offender would cause them imminent physical harm. An alleged offender could also be convicted if the prosecutor can prove that they recklessly caused serious physical harm to a family or household member.
A court will find it exceedingly difficult to convict a person of knowingly causing an injury if the alleged offender claims they had no intention of harming the alleged victim. Ohio Revised Code § 2901.22(C) states that when a person acts recklessly, they ignore the substantial risks that their actions would likely have.
When the harm that resulted from an alleged offender's actions was truly the result of an accidental action with no intent to injure the alleged victim, it may still be possible for an alleged offender to argue that they believed there was no substantial and unjustifiable risk to their conduct.
---
Lack of Evidence in Cincinnati Domestic Violence Cases
Many people are placed under arrest for domestic violence even when little to no evidence exists to support the criminal charges. Cases based solely on the testimony of an alleged victim can often reveal numerous inconsistencies.
Even in the presence of supposed evidence of domestic violence caused by an alleged offender, not all injuries may have been the result of an alleged offender's actions. A criminal defense attorney can review all the evidence the prosecutor holds and determine the strongest ways to challenge the authenticity of such evidence.
---
Ohio Resources for Defenses to Domestic Violence Charges
State v. Pepin-McCaffrey — On October 28, 2008, Chantal Pepin-McCaffrey was arrested for domestic violence after punching her husband in the groin. She was convicted and sentenced to 180 days in jail, but Pepin-McCaffrey appealed after the trial court did not let her claim self-defense. The Ohio Seventh District Court of Appeals reversed the judgment of the trial court and remanded the case for a new trial.
The Ohio Domestic Violence Benchbook — The Ohio Family Violence Prevention Center was established at the Ohio Office of Criminal Justice Services (OCJS) in 1999 and serves as an information clearinghouse for public and private organizations assisting domestic violence victims. In this guide for judges and magistrates, you can find quick references to numerous legal issues in domestic violence cases. The guide covers self-defense issues, bond, pretrial release, and sentencing considerations for domestic violence crimes.
Ohio Office of the Public Defender's Criminal Law Casebook on Affirmative Defenses – This casebook has affirmative defenses to criminal charges, citing case law and Ohio Revised Statutes. This resource has case precedents for you to see what defenses can and cannot invalidate a charge of domestic violence against you. A lawyer will ultimately be able to tell you which affirmative defenses your case supports and are worthwhile, but the casebook is a good starting point.
Ohio Evidence Courtroom Manual (2020) – A common resource for both state and federal courts, this publication was written specifically for courtroom use. It includes summaries of case laws as they pertain to evidence in Ohio cases. The guide contains analysis and commentary and explores current developments and trends. For lack of evidence defenses, this book offers examples and applicable rules for Cincinnati domestic violence cases.
---
Domestic Violence Defenses News in Cincinnati
October 23, 2020
"Camden Man Stands Trial on Kidnapping, Assault, Domestic Violence Charges"
Brandon T. Welsh, of Camden, Ohio, stood trial in October 2020. A jury found him guilty of domestic violence. Prosecutors presented testimony evidence from a Preble County Medical Center emergency room physician that a family member showed up at the healthcare facility hours after the alleged assault with bruises, a swollen right eye, tenderness in her arms and legs, and skinned elbows. Welsh's defense lawyer argued that although his client and the alleged victim argued at a friend's swimming pool, he did not injure the alleged victim and suggested that she caused the injuries in order to falsely incriminate Welsh. While convicting Welsh of domestic violence, the jury did not reach a unanimous verdict on the felonious assault charge. Welsh's lawyer presented testimony from the emergency room doctor that when he examined the alleged victim, she showed no signs of head trauma, bone fractures, or internal bleeding.
September 16, 2020
"Ross County Man Convicted of Rape, Kidnapping"
After a two-day jury trial, Clarence "Johnny Kuntz," of Chillicothe, was found guilty and convicted of multiple counts of rape, kidnapping, and assault. The alleged victim claimed she was being held captive by Kuntz. Prosecutors further provided testimony from a sexual assault nurse examiner who said the alleged victim's injuries were consistent with the victim's account of the incident. Most damning, the prosecutors showed footage from a security video showing Kuntz beating the alleged victim for a period of 45 minutes before covering her mouth and engaging in sexual acts. Kuntz was assigned a public defender who argued that the altercation before the sex act was domestic violence, and the sex captured on video consisted of makeup sex, not rape. It took the jury one hour and 20 minutes to return a verdict of guilty on all 19 counts.
September 9, 2020
"Marshall Football Player Found Not Guilty of Strangulation, Domestic Battery"
Several people witnessed an altercation between Brandon Lamar Drayton, a Marshall University football player, and a woman. Prosecutors presented that Drayton was angry when his former girlfriend was talking to his teammates. Although evidence photos showed restriction of airflow of the alleged victim, Drayton's criminal defense attorney showed that the alleged victim's testimony was inconsistent and that she had testified that she did not remember how the bruising and redness in the photos occurred. A jury returned a verdict of not guilty.
---
Q&As About Domestic Violence Charges in Cincinnati
The following are some frequently asked questions about domestic violence charges in Cincinnati:
Q: What are defenses to domestic violence?
A: Your lawyer can present any of several defenses to domestic violence charges in Cincinnati. False accusation is a defense that argues the alleged violent incident did not occur. Insufficient evidence argues that the evidence the prosecution presented does not meet the standard of proving that it is more likely than not the domestic violence occurred. Self-defense argues that the alleged victim initiated the violence and that the defendant acted to defend themselves or others. Lack of intent argues that the defendant did not knowingly try to physically harm the alleged victim.
Q: How can an alleged offender prove that the alleged victim lied?
A: If you have been falsely accused of domestic violence, you and your lawyer can seek and gather evidence that can help prove the alleged victim lied about the incident. Such evidence might include photos, videos, clothing, GPS data, emails, and letters. You can draft a list of witnesses and their contact details. Witnesses might include people who can offer details about the alleged domestic violence incident or the alleged victim. Your lawyer can also launch an investigation of the crime scene and of any evidence the prosecutor plans to use against you. Your lawyer might call on expert witnesses to provide further evidence about the false accusation.
Q: Are alleged offenders able to claim that their actions were done in defense of themselves or others?
A: Yes, self-defense is a valid defense against domestic violence charges. Your lawyer will set out to prove that your actions were within legal limits, that you were in immediate physical danger, and that you exerted only the amount of force required to protect yourself or others from physical harm. Strong evidence in this defense would consist of surveillance video footage or witness testimony.
Q: What does it mean to recklessly cause harm to a family or household member?
A: Under Ohio Revised Code § 2919.25, if you recklessly cause serious physical harm to a family or household member, you will face criminal charges for domestic violence. If you did not intend to physically harm another person, but you knew or should have known that your actions could cause harm, a court could find you guilty of reckless domestic violence. It differs from an act of negligence in that recklessness means that you knowingly took the risk of harming another individual, whereas negligence means you unknowingly took such a risk.
Q: How does the quantity or quality of evidence impact criminal charges?
A: Evidence plays a critical role in the outcome of any criminal charge. Criminal cases require more and better evidence than civil matters because a person's liberty, reputation, and sometimes their very life are at stake. Exculpatory evidence will show that you did not commit a crime, in which case your case will be dismissed. A good defense lawyer will devote effort to uncovering this type of evidence. However, they should also be aware of any inculpatory evidence, which directly or indirectly connects you with the crime, so they can prepare an appropriate defense—perhaps attempting to suppress or exclude such evidence.
Other types of evidence might serve to mitigate the circumstances of the crime you are accused of committing and can work to lessen charges and/or punishment. The prosecutors in your case are legally obligated to disclose all evidence they have gathered against you so your lawyer can review the evidence and prepare a strategic defense with this evidence in mind.
Q: Where can I find more information about domestic violence defenses in Cincinnati?
A: To learn more about domestic violence in Cincinnati, you can review the Ohio Revised Code § 2919.25 regarding domestic violence. This government site explains how Ohio law defines the crime of domestic violence. The Ohio Family Violence Prevention Center, a division of the Office of Criminal Justice Services (OCJS), also provides useful insight into Ohio's view of this offense. Specifically, The Ohio Domestic Violence Benchbook offers information about domestic violence defenses. Finally, a lawyer for defenses to domestic violence charges in Cincinnati can talk to you about your case and suggest possible defenses they can pursue on your behalf.
---
Defenses to Domestic Violence Charges in Cincinnati
Were you arrested in Hamilton County for an alleged crime of domestic violence? Contact Joslyn Law Firm for help exploring all of your possible legal defenses.
Brian Joslyn is a criminal defense attorney in Cincinnati who represents clients all over southwestern Ohio, including Miamitown, Colerain, Green, Miami, Symmes, Norwood, Blue Ash, Reading, Harrison, and many other nearby communities. You can have us provide an honest and thorough evaluation of your case as soon as you call (513) 399-6289 for your free, confidential consultation.
---