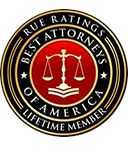 "Brian Joslyn is an Award-Winning Criminal and DUI Defense attorney who, along with his team at The Joslyn Law Firm, have handled hundreds of criminal cases and helping their clients obtain the best results possible."
Domestic Violence Resources
Ohio Criminal Justice Statistics | Office of Criminal Justice Services (OCJS) — The OCJS is a division of the Ohio Department of Public Safety that is the state's lead criminal justice planning agency. You can find various statistics about crimes committed in Ohio, including domestic violence. The domestic violence section has a breakdown of victims and offenders by relationship, race, age, and gender.
Hamilton County | Ohio Alliance to End Sexual Violence (OAESV) — The OAESV is a statewide coalition that advocates for comprehensive responses and rape crisis services for survivors and empowers communities to prevent sexual violence. On this section of its website, you can a listing of various agencies in Hamilton County that provide help for victims of domestic violence. Elsewhere on the website, you can download the OAESV's annual report, view recent news, and access other resources.
Family Violence in Hamilton County: Annual Update — View statistics about family violence from 2007 to 2009 in Hamilton County. The data is provided by the Ohio Family Violence Prevention Project, a collaborative project of the Health Policy Institute of Ohio and the Ohio State University College of Public Health with support from the HealthPath Foundation of Ohio. The table also compares Hamilton County's rates of petitions for protection orders and reports of abuse to the state mean and the mean of five major metro counties.
Intimate Partner Homicide: Hamilton County, Ohio 1997-2006 — View the full text of a report released by the Hamilton County Domestic Violence Fatality Review Team in 2007. The task force included researchers from the University of Cincinnati, police departments, and social service agencies. The report identifies multiple risk factors for intimate partner homicide and includes a number of recommendations.
Hamilton County Child Fatality Review Annual Report — In 2000, the Ohio General Assembly developed a statewide Child Fatality Review (CFR) program that mandates CFR boards be implemented in every county in Ohio in order to review the deaths of children under 18 years of age. Review this report to learn more about the causes of child fatalities in Hamilton County from 2010 to 2014. Multiple recommendations address domestic violence concerns.
Women's Crisis Center (WCC) — WCC is a 501(c)(3) nonprofit social service agency that serves all individuals who have experienced domestic violence, rape, and sexual assault. On this website, you can learn more about WCC's residential and non-residential survivor services. You can also learn about ways to get help or to help people who have been victimized by domestic violence.
Sexual Assault and Domestic Violence Resources — The University of Cincinnati Women's Center compiled this listing of various resources relating to domestic violence. The website's goal "is to assist efforts to aid and support those trying to remove themselves from abusive situations and build healthier, stronger lives." You can find links to many national organizations and more specific resources.
UC Women's Center
Steger Student Life Center, Suite 571
2801 UC MainStreet
Cincinnati OH 45221-0179
(513) 556-4401
Statistics show the eye-opening aftermath of domestic violence against women — Volunteers of America is a national 501(c)(3) nonprofit organization that operates thousands of human services programs. On this section of the organization's website, you can learn more about its vehicle donation program to help domestic violence victims in the Cincinnati area. You can also find information about the physical health impacts and mental health challenges that domestic violence victims face.
---